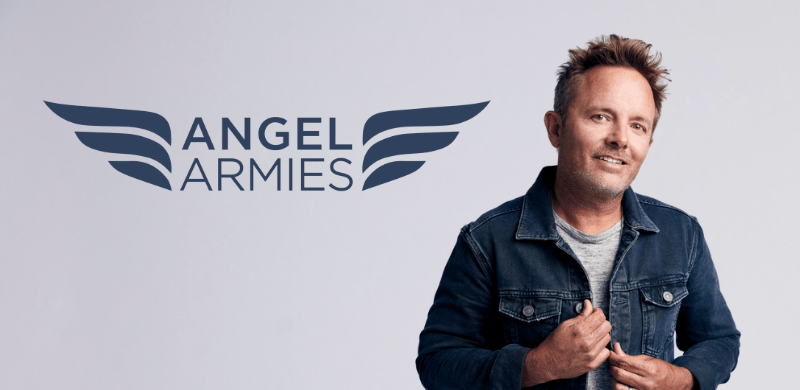 NASHVILLE, Tenn. – (April 30, 2021) – Grammy award winning artist Chris Tomlin and his wife Lauren have always had hearts for vulnerable children. In the U.S. alone four million children will touch the child welfare system each year and for the past several years the Tomlin's have been working towards finding solutions to the problem. In 2018, they launched a non-profit, known as Angel Armies, whose goal is to cultivate holistic partnerships that strengthen families in crisis, support the heroic work of foster families, and ultimately, provide every child a safe and permanent home. As the organization enters into its next chapter, taking what it has learned and drawing on cross sector collaboration, they are committed to increase their impact and are honored to announce Pastor and author David Nasser will join as President. David will start with the non-profit in June.
"My wife Lauren and I have always had a heart and a vision to help vulnerable children across our nation," said Chris. "A few years ago, with the help of incredible organizations and generous families, we were able to launch what we called 'Angel Armies.' In this time, we've learned even more about the crisis within the foster system, and while the issues are complex, we know there is an opportunity for lasting change. In order to get there, we need a leader who is not only experienced but passionate and has a undeniable calling to address the needs of not only the most vulnerable in this nation but in the world. So we are excited to announce that we have found that leader in David Nasser who will serve as the new President of the organization."
"It is an honor to join the Angel Army family," said David. "My wife Jennifer and I have been blown away by Chris and Lauren's deep dedication to leverage their lives to serve the vulnerable. The hands-on approach of this Christ centered organization, and their relentless commitment to the spread of gospel, was also a big part of what drew me to this ministry."
"For over 20 years David and Jennifer have been some of Lauren and I's closest friends and it is with great confidence that they will lead this organization to achieve its greatest impact," shared Chris. "Not only is he a great author, speaker, and leader but, as an adoptive parent himself, he also knows first-hand what it means to take care of the vulnerable children right here in our own backyard. David and Jennifer have spent their entire life in ministry and watching what they have done for the last seven years together with Liberty University is inspiring. It's undeniable, the young lives that have been touched during their time on campus, at convocation, and around their dinner table. Their time ministering along with Liberty will have a ripple effect for generations. I am grateful that they are willing to hear the calling and use their gifts to be a voice for the most vulnerable and lead us into this next chapter."
Since its inception, the non-profit has partnered with organizations who assist children and families in over 30 states serving 14,000 families and 35,000 children with more than 3,000 churches engaged. They remain focused on educating the world on the crisis within the child welfare system and mobilizing the church to become champions for children in need, and as the organization begins this next chapter, they stay grounded in their calling and mission, to be a voice for the vulnerable.
##