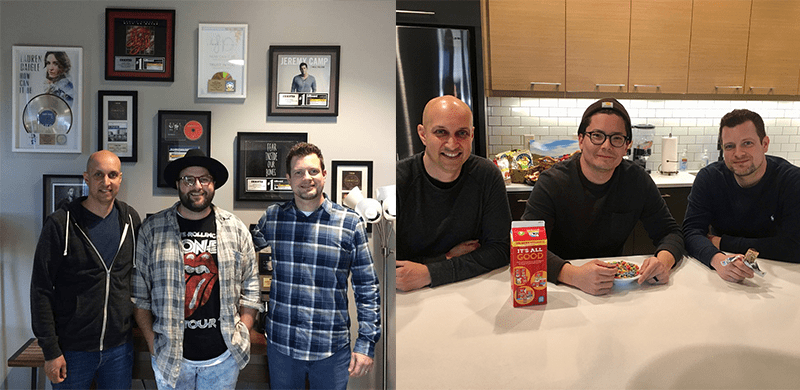 NASHVILLE, TN. (28 March 2018) Centicity Publishing continues its dedication to great songs, with the addition of two talented staff writers to its roster. Jeff Owen and Kyle Williams have signed deals with the publishing division of indie label Centricity Music.
Williams, formerly a member of Christian pop-rock group Stars Go Dim, currently plays guitar and keys for We Are Messengers. His talents as a songwriter are represented by a range of accolades, including his co-writing of Stars Go Dim's No. 1 radio hit "You Are Loved." He also co-wrote and performed on the track "Welcome To The Fire," which was recently licensed for promotional use for NBC's Chicago Fire, Ultimate Fighting Championship (UFC), and the upcoming film I Still See You.
Owen is a member of Dove-Award winning band Tenth Avenue North, playing guitar and singing backup vocals. He's co-written multiple Christian radio No. 1 singles, including Tenth Avenue North's "I Have This Hope," "Healing Begins," and "Worn." Owen produced the band's Decade The Halls Christmas album, along with projects for Jon McLaughlin and various indie artists. He also produces his own projects for film and TV.
Centricity Publishing is thrilled to collaborate with Owen and Williams.
"We are so excited to welcome Jeff and Kyle to the Centricity Publishing family," VP of Publishing Chad Segura said. "They're both ridiculously talented, and we know they've only scratched the surface of what they're truly capable of. We're grateful to be a part of this next chapter for each of them."
##