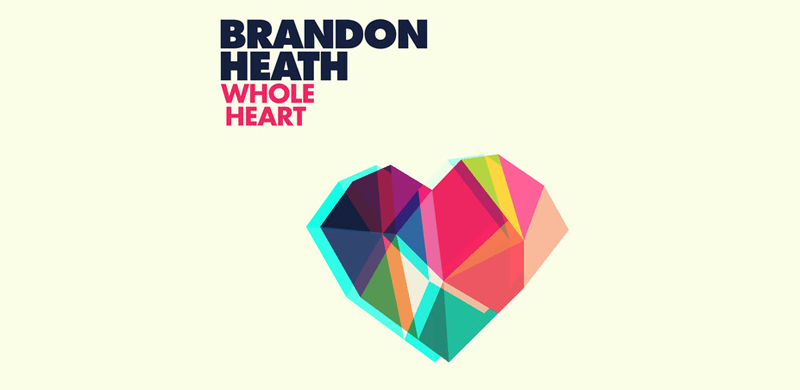 NASHVILLE, TENN. (MAY 12, 2017) GRAMMY®-Nominated singer/songwriter Brandon Heath releases a brand new song, "Whole Heart," to radio, going for adds today. The single is also available at all digital and streaming outlets. Heath has been on the road this week introducing the song to radio partners including Sirius/XM, WRBS/Baltimore, FISH/Atlanta, His Radio Network, KLTY/Dallas and KSBJ/Houston. Last night Heath hosted a Facebook Live sharing the new song with fans.
"I'm excited to have a new song and a new sound out there on radio," explains Heath. "The message is still the same, God is asking for everything I've got. 'Whole Heart' speaks to a vulnerable topic, but I wanted it to sound free and open and triumphant. God's already got it all in His hands, but He still asks us to surrender."
Radio programmers are already getting excited about the single. "The Brandon Heath my listeners know and love is back with music even better than what put him on the map a decade ago," shared Al Skop Sirius/XM "The Message".
This summer fans can catch him at various festivals across the country – dates listed here. He will also be joining Tenth Avenue North on their fall tour – tour dates and more details to be announced soon.
About Brandon Heath:
Since Brandon Heath's debut on Reunion Records with Don't Get Comfortable (2006), he has become one of Christian music's most beloved and respected artists and songwriters. Heath has garnered an Emmy Award, five GRAMMY® nominations and an American Music Award nomination. He has been honored as a six-time GMA Dove Award recipient, including "Male Vocalist of the Year" (2009 and 2010), BMI's 2014 Songwriter of the Year, and earned multiple additional songwriting honors. His award-winning songs and signature vocals reflect a soaring radio career that includes top hits "I'm Not Who I Was," "Wait and See," the 2009 GMA Dove Award-winning Song of the Year and RIAA Platinum certified single "Give Me Your Eyes," the eight-week chart topper "Your Love," "The Light In Me," and many others.
Heath, a Nashville native, first began writing at age 13. His artistry and ability to connect with audiences have compelled countless media outlets across the nation to platform his story and music. Highlights include coverage in The New York Times, Billboard, The Wall Street Journal, Relevant, CBS Evening News and The Discovery Channel.
##