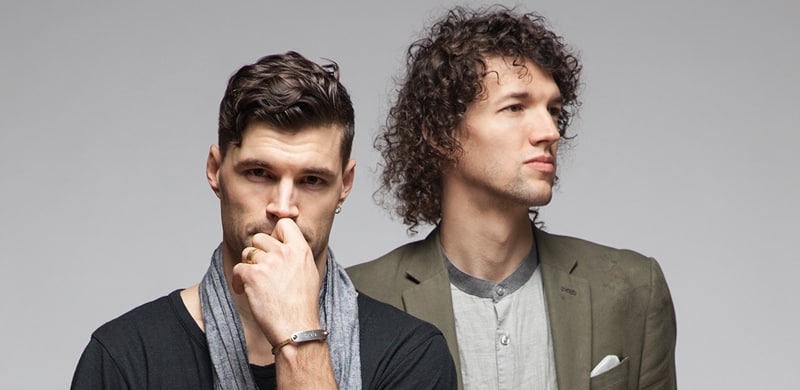 DOVE NOMINATIONS

---
Total Career Doves:
1
2015 Dove Nominations:
Contemporary Christian Artist of the Year
Artist of the Year
Rock/Contemporary Song of the Year ("Messengers" with Lecrae)
Pop/Contemporary Song of the Year ("Shoulders")
Pop/Contemporary Album of the Year (RUN WILD. LIVE FREE. LOVE STRONG.)
Short Form Video of the Year ("Shoulders")
More info:
www.forkingandcountry.com
By Lindsay Williams
for KING & COUNTRY took home the coveted New Artist of the Year Dove in 2013. This year, they're on the leaderboard, second only to Lecrae, with the most Dove nominations, thanks to a banner year following the release of their wildly successful sophomore set, RUN WILD. LIVE FREE. LOVE STRONG. (Word Entertainment). The duo—made up of brothers Joel and Luke Smallbone—will release an anniversary edition (featuring numerous previously unreleased songs) and a limited edition vinyl Oct. 23. In the meantime, the band's wrapping production on its first feature-length film, Priceless, slated to hit theaters in 2016. Post-Doves, the band will embark on "Priceless: The Tour," with special guest Moriah Peters, before joining the west coast leg of Winter Jam this November. Luke carved out 60 seconds to dish on the brothers' record-breaking year and his favorite Dove memories thus far…
Proudest Dove Awards Moment to Date…
When we won New Artist of the Year in 2013. It was a moment for both my brother and I when we realized how much support and love we had from the people in that room. It was an endearing, special moment for both of us.
This Year, I've Learned…
The importance of balance in life. There are so many good things, but some [things] you still need to say "no" to.
What I'd Be Doing If I Wasn't An Artist…
I would be playing sports. Tennis or basketball would be my dream.
Most Surprising Person I've Ever Learned Is A Fan Of Our Music…
I was at a baseball game, and we were singing the national anthem for the Los Angeles Dodgers. Some of the players from the opposing team—which happened to be my favorite team (the San Diego Padres)—came up and said how excited they were that we were there to sing. It took me by surprise. We thought we were singing at a place where no one knew who we were!
Favorite Way to Kill Time On The Bus…
Most likely by watching HGTV or ESPN.
Where I'll Keep My Dove Award If I Win…
Probably in my office or in my boys' room—one of the two seems like a good idea.
See if for KING & COUNTRY winds up a winner at the 46th Annual GMA Dove Awards on Oct. 13. Catch them on the Trinity Broadcasting Network (TBN) telecast Oct. 18, starting at 9 p.m. CST.
##