NEWS: Erica Campbell and Sadie Robertson to Host 46th Annual GMA Dove Awards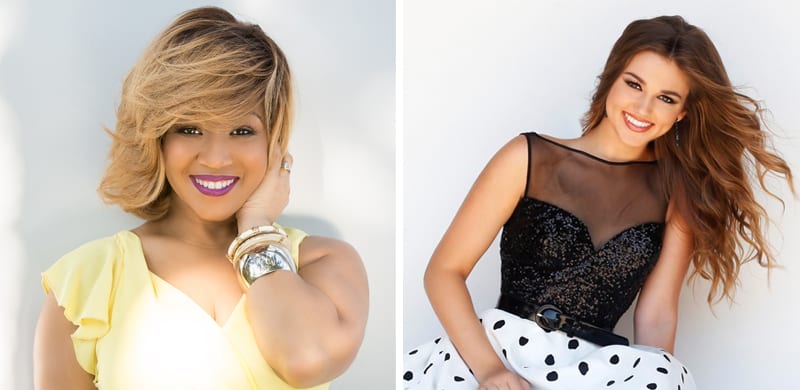 Five-Time Grammy Winner and WEtv's "Mary Mary" Star Erica Campbell and A&Es "Duck Dynasty" Star Sadie Robertson to Host 46th Annual GMA Dove Awards
The 46th Annual GMA Dove Awards to air on Sunday, October 18th on Trinity Broadcasting Network (TBN)
Song and Songwriter of the Year categories announced today
NASHVILLE, Tenn. (Aug. 24, 2015) – The Gospel Music Association (GMA) announces multi-Dove Award winning powerhouse Erica Campbell, the five time Grammy winner and WEtv star of the hit show "Mary Mary," and New York Times best-selling author Sadie Robertson as the co-hosts for the 46th Annual GMA Dove Awards (www.doveawards.com). Additionally, the Song and Songwriter of the Year categories are announced today. The Dove Awards will take place on Tuesday, October 13th, live from Allen Arena on the campus of Lipscomb University in Nashville, TN and will air exclusively on the Trinity Broadcasting Network (TBN) on Sunday, October 18th at 9:00 p.m (CST). For Dove updates and breaking news, please visit the Gospel Music Association's social networks on Twitter and Facebook. The full list of nominees can be found here: FULL LIST OF 46th ANNUAL GMA DOVE AWARD NOMINEES.
Songwriter of the Year (Artist)
Bart Millard
Chris Tomlin
Lecrae Moore
Matt Maher
Phil Wickham
Songwriter of the Year (Non-Artist)
Benjamin Glover
David Arthur Garcia
Dianne Wilkinson
Jason Ingram
Seth Mosley
Song of the Year
(full information is found on above link to nominations)
"Come As You Are" – Crowder (writers) Ben Glover, David Crowder, Matt Maher
"Greater" – MercyMe (writers) Barry Graul, Bart Millard, Ben Glover, David Garcia, Mike Scheuchzer, Nathan Cochran, Robby Shaffer
"He Knows My Name" – Francesca Battistelli (writers) Francesca Battistelli, Mia Fieldes, Seth Mosley
"Hope In Front Of Me" – Danny Gokey (writers) Bernie Herms, Brett James, Danny Gokey
"How Can It Be" – Lauren Daigle (writers) Jason Ingram, Jeff Johnson, Paul Mabury
"Multiplied" – NEEDTOBREATHE (writers) Bear Rinehart, Bo Rinehart
"Overwhelmed" – Big Daddy Weave (writers) Michael Weaver, Phil Wickham
"This Is Amazing Grace" – Phil Wickham (writers) Jeremy Riddle, Josh Farro, Phil Wickham
"Thrive" – Casting Crowns (writers) Mark Hall, Matthew West
"We Believe" – Newsboys (writers) Matthew Hooper, Richie Fike, Travis Ryan
"I'm super excited to be co-hosting the 46th Annual GMA Dove Awards this year," Erica Campbell says. "It's going to be an amazing night especially since I get to stand next to the lovely Sadie Robertson as co-host! I truly believe we are better together! I believe God smiles when we stand united for His Glory!"
"I'm so excited to host this years Dove Awards," Sadie Robertson says. "It is a true honor to be able to share the stage with Erica Campbell, and it's going to be a great night. I am really looking forward to it!"
Campbell recalls one of her fondest Dove Awards memories as she prepares for her hosting spotlight. "I remember my first Dove Awards performance with gospel legend Kirk Franklin at the Grand Ole Opry! Tina (of Mary Mary) and I were so nervous and excited! But the audience praised God with us as we sang Shackles! Our outfits were terrible but the night was amazing!"
"I am elated to announce that Sadie Robertson and Erica Campbell will be hosting this year's Dove Awards," says GMA President and Executive Director Jackie Patillo. "Sadie is faithfully using her voice and celebrity to share how you can lead a positive and wholesome life, while enjoying your youth. Erica Campbell is a master at commanding the stage and we know she will have all of us in the palm of her hand on October 13."
Last week, the GMA announced the nominees for the 46th Annual GMA Dove Awards with Lecrae leading the pack with 9 nominations, followed by for KING & COUNTRY with 7 and Crowder and Matt Maher each receiving 6.
The GMA Dove Awards will feature artists from every style of Gospel/Christian music coming together to celebrate the impact of its music. Dove Award nominees are determined by over 1,500 professional members with the winners will be voted on by the entire GMA membership of nearly 2,500. The awards are produced by the GMA.
Tickets to the 46th Annual GMA Dove Awards are now on sale at the Allen Arena box office in Nashville or at www.doveawards.com. Ticket prices range from $35.00 to $200.00.
About Erica Campbell:
After seven Mary Mary albums and 14 years as part of the groundbreaking duo, multi-Grammy Award-winning artist Erica Campbell released her debut solo album Help in 2014. Led by the singles "A Little More Jesus" and "Help," it entered Billboard's Gospel Albums chart at #1 and peaked at #6 on the all-genre Billboard 200. Campbell's solo debut earned a Grammy Award for Best Gospel Album, and she released Help 2.0 earlier this year. So far in her career, Erica has won eight Dove Awards and 17 Stellar Awards. Erica also stars in the hit WEtv originally scripted show "Mary Mary." In addition to her solo career, Campbell continues to perform with Mary Mary and collaborates with her husband, producer Warryn Campbell II.
About Sadie Robertson:
Sadie Robertson is well known for her dimples and engaging smile, but there is more to the 18-year-old charmer and star of A&E's Duck Dynasty than that. A high school athlete and motivational speaker, Sadie spends her summers on mission trips and working at a Christian youth camp spreading her message to peers about being confident in who you are and learning to "live original." Sadie continues to serve as a positive role model to young girls across the country, catering consistent, positive messages of encouragement to over 3,000,000 followers across her social platforms. Combined, her YouTube videos have more than 50,000,000 views.
Sadie's new book, Live Original: How the Duck Commander Teen Keeps It Real and Stays True to Her Values, is available now at retailers nationwide.
About GMA:
Founded in 1964, the Gospel Music Association serves as the face and voice for the Gospel/Christian music community and is dedicated to exposing, promoting and celebrating the Gospel through music of all styles including Pop, Rock, Praise & Worship, Urban Gospel, R&B, Hip Hop, Southern Gospel, Bluegrass, Country and more. The GMA community includes agents, artists, church leaders, managers, promoters, radio personnel, record company executives, retailers, songwriters and other industry visionaries. The GMA produces the GMA Dove Awards and IMMERSE and GMA Honors. For more on supporting the GMA or becoming a member, please visit www.gospelmusic.org or contact the GMA directly at 615.277.1376.
About the Trinity Broadcasting Family of Networks:
With 28 networks and growing worldwide, the Trinity Broadcasting Family of Networks is the world's largest faith-and-family television group, airing a broad range of church and ministry programming, Christian music, family friendly movies, children's programming, and shows for teens and young adults 24 hours a day to every inhabited continent via 87 satellites and 20,000 television and cable affiliates. In addition, TBN's most popular global networks are available on computers, smart phones, and other mobile devices, and over 24,000 hours of entertaining and inspiring On-Demand programming is accessible via TBN's innovative online network, iTBN.org. To find out more about the Trinity Broadcasting Family of Networks, log on to www.tbn.org.
##
For more information on GMA Dove Awards, please go to the Wortman Works website in the Dove Awards client section for bios and photos. You may also access at www.doveawards.com.
Media Contact:
Jules Wortman
Wortman Works Media & Marketing
615.260.9985
jwortman@wortmanworks.com