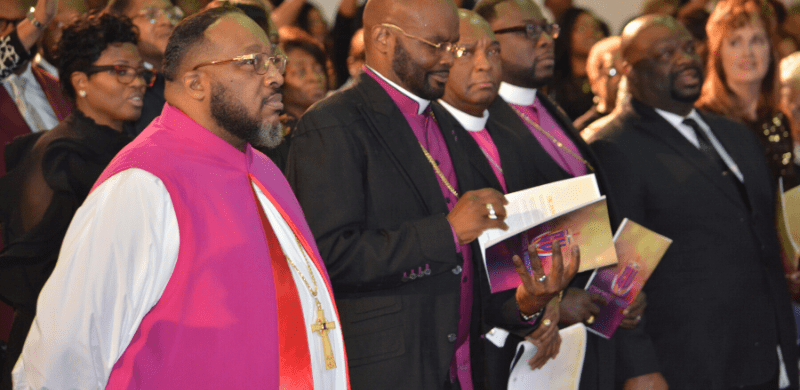 Fort Worth, Texas – December 3, 2019 – Bishop Marvin Sapp was recently installed as the Senior Pastor of The Chosen Vessel Church in Fort Worth, Texas in a dynamic evening service where every pew in the church was filled.
The installation service featured renowned special guest speakers and singers, leadership from The Chosen Vessel Cathedral, and leadership and clergy from the Fort Worth community.
Bishop Neil Ellis from Mount Tabor Church in Nassau, Bahamas facilitated the Covenant of Installation. Dr. Jamal Bryant from New Birth Baptist Church in Atlanta, Georgia preached a genius sermon that he called "I Think I Want to Do Something Else." Grammy-nominated singer and pastor, Bishop William Murphy from The dReam Center Church in Atlanta, Georgia provided the sermonic solo and sang the congregation into a frenzy with his hit song "It's Working", and Bishop Rudolph McKissick, Jr. of The Bethel Experience church in Jacksonville gave the Charge to the Pastor, imploring Bishop Sapp to "never get seduced by the ordinary" because "God chose you long before they picked you."
Pastor Antonio Matthews of R.E.A.L. Church at Hope City in Denver, Colorado hosted the service.
Before providing the ceremonial impartation, Bishop Richard Young, Pastor Emeritus of The Chosen Vessel Cathedral, thanked the congregation and the leadership of The Chosen Vessel Cathedral. He reminded the congregation and Bishop Sapp of Chosen Vessel's rich legacy (the church is 100 years old, and is the first Black Apostolic church in Fort Worth). "This church has led with excellence, leaving no soul behind," said Bishop Young. "I have built a house that Marvin Sapp is ordered to fill."
Bishop Young announced his retirement earlier this year and, in May, announced Bishop Marvin Sapp as his successor. Sapp began his role as Senior Pastor on Sunday, September 15th, and the church has seen a steady stream of visitors, new members and new believers every Sunday.