Billboard's Top Male Gospel Artist Travis Greene Presents #EngageCulture Event Featuring Fellow 2018 GRAMMY® Award Nominees Tauren Wells, Danny Gokey, And Bernie Herms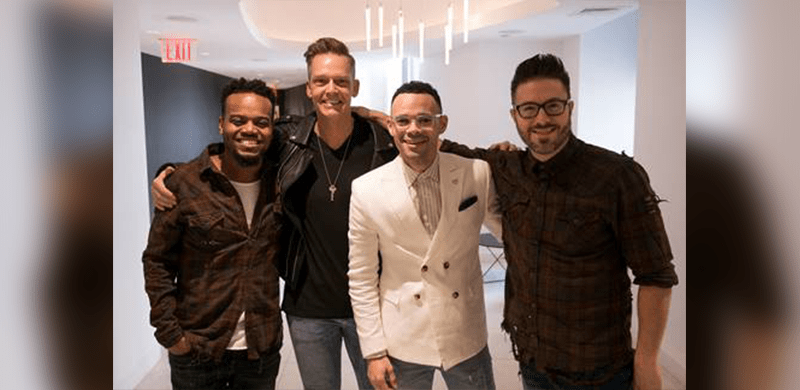 Los Angeles, Calif. — Three time GRAMMY® nominated and Billboard's "Top Male Gospel Artist of 2017" Travis Greene was joined by fellow nominees Tauren Wells, Danny Gokey and Bernie Herms for an in-depth panel conversation at Greene's #EngageCulture pre-GRAMMY event that took place on Sat., Jan. 27 at Sony Music Entertainment in New York, N.Y.
Hosted and moderated by Dr. Holly Carter, CEO of Releve Entertainment (Preachers of LA, Detroit, and Atlanta, Meet The Sheffields, LA Hair) and powered by The Merge Symposium, the discussion centered on how 'Engaging Culture' crosses color, genre and gender lines and merges the worlds of faith, music, culture and content.
An inspirational trailblazer in his own right, Greene is on a global mission to #engageculture. "As an artist, I want to help spark a conversation and movement that influences, inspires and curates collaboration and help redefine culture in some way," he says.
Alongside featured panelists, the #EngageCulture event also included special guest appearances by GRAMMY Award winning Producer Rodney Jerkins, and gospel singer James "JJ" Hairston, leader, chief songwriter and director of the Youthful Praise choir.
Greene will kick off his U.S. tour beginning February 18 through March 1. Launching at the Majestic Theatre in Detroit, Mich., Greene will circuit major cities across the nation such as Chicago, Ill., Pittsburgh, Pa., New York, N.Y., Philadelphia, Pa., Richmond, Va., Washington, D.C., Charlotte, N.C., and Atlanta, Ga., among others.
Nominated for a 2018 GRAMMY award for "BEST GOSPEL ALBUM" and a 2018 NAACP award nomination for "OUTSTANDING GOSPEL ALBUM (Contemporary or Tradition)" for his chart-topping album, "Crossover: Live From Music City," Greene was named Billboard's "Top Male Gospel Artist of 2017." He recently received nine Stellar Award nominations; adding to his already previous 13 Stellar Awards, three Dove Awards, and Soul Train Award. His current song "You Waited" is Greene's third consecutive #1 single from his latest RCA/Inspiration album. Greene has and continues to bring his cultural boundary crossing music globally to many countries outside the U.S., including Nigeria and Ghana; the Caribbean islands of Trinidad and Tobago, and Jamaica; Dubai; and to London, Montreal and Toronto.
For more information, please visit: http://travisgreene.tv/
##