Best Selling Authors Angie Smith, Danielle Walker and Annie F. Downs Converge For A Night Of Friends, Food And Faith With 2019's "Come To The Table Tour"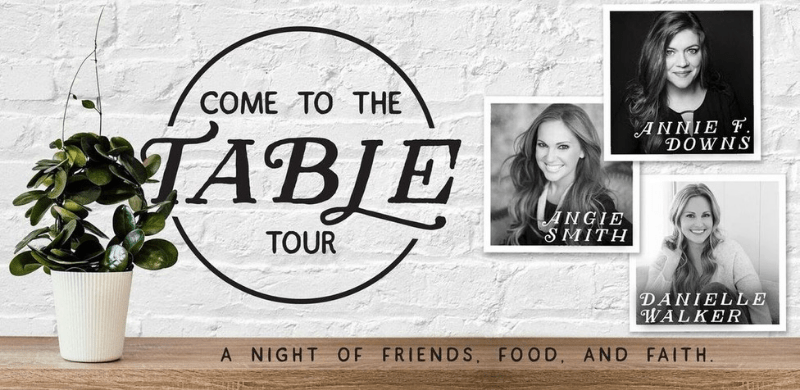 Compassion LIVE Presents Experience To Feed The Soul
Nashville, Tenn. (Oct. 24, 2018) – "Come To The Table Tour," helmed by Angie Smith, Danielle Walker and Annie F. Downs alongside Compassion LIVE, will provide a night of nourishment for women of all stages. The unique line-up of longtime girlfriends will be an eight date run trekking the south throughout March and April.
"Join us for a night of laughter, digging into Scripture, and cooking around the table together," invites Smith. "We're so excited to invite you to a new kind of experience than you've had before – one where you're introduced to our personal worlds and invited to be a part of them. Have you ever doubted that you're welcome at the table? Afraid to even try? Unsure what community and faith look like? Come spend some time with us; we've saved a seat just for you."
Nationally known author and teacher Angie Smith is known for her guidance-infused titles such as Seamless, Understanding The Bible as One Complete Story, Chasing God, What Women Fear, I Will Carry You and Audrey Bunny. The mother of five girls is a long-time supporter of Compassion International.
3X New York Times Bestselling Author Danielle Walker is known for purveying conscious recipes as she navigates life with an autoimmune disease under her brand Against All Grain. Her most recent venture is the upcoming Eat What You Love cookbook which includes 125 gluten-free, dairy-free and paleo recipes centered around everyday comfort food you crave.
"I could not be more excited about joining my friends on this tour and having a chance to share my journey to finding health through food," adds Walker.
On the heels of debuting Remember God earlier this month, bestselling author and nationally recognized speaker Annie F. Downs dives into whole heartedly remembering the truths about God. This release marks her latest in a string of popular books including 100 Days to Brave, Looking for Lovely and Let's All Be Brave.
"I'm so excited to spend a few evenings with some of my best friends sharing about what it really looks like to gather with your people," says Downs. "I cannot wait to meet new friends, share about what Jesus has done in my story and the stories of people I care about, and eat Danielle's cooking. We feel so incredibly grateful to get to spend this time together and with Compassion."
Tickets go on sale at 10 a.m. local time on Nov. 1. For tickets or the latest tour information, visit www.ComeToTheTableTour.com.
"Come To The Table Tour" Routing:
* all dates subject to change.
3/28/19 Marietta GA Johnson Ferry Baptist Church – TICKETS
3/29/19 Elizabethtown KY Severns Valley Baptist Church – TICKETS
3/30/19 Franklin TN Clearview Baptist Church – TICKETS
3/31/19 Kernersville NC First Christian Kernersville – TICKETS
4/4/19 Birmingham AL Mountain Brook Community Church – TICKETS
4/5/19 Little Rock AR The Church at Rock Creek – TICKETS
4/6/19 Tyler TX Rose Heights Church – TICKETS
4/7/19 Round Rock TX The Fellowship Round Rock – TICKETS
About Angie Smith:
Angie is married to Todd Smith, lead singer of the Dove-award winning group Selah and mom to five daughters. In 2008, the Smiths received news that their fourth daughter, Audrey, would not survive after birth. As a means of communication with friends and family during those difficult days, Angie began blogging about her grief, struggle, and ultimately, hope. Audrey's story in book form, I Will Carry You began a beautiful movement of helping families with their own dance of grief and joy. Now a nationally-recognized Bible study teacher and best-selling author of multiple adult and children's books including Seamless: Understanding The Bible as One Complete Story, Chasing God, and What Women Fear, she is most passionate about making the Bible feel accessible and relevant to women. Angie holds a Master's Degree in Developmental Psychology from Vanderbilt in Nashville, where she and Todd call home.
About Danielle Walker:
Danielle Walker is the beloved author of three New York Times best-selling cookbooks–Against All Grain, Meals Made Simple, and Celebrations–and the voice behind one of the most popular grain-free blogs on the Internet, againstallgrain.com. After being diagnosed with an autoimmune disease and suffering for many years, Danielle found health through dietary changes. She has become a beacon of hope in the autoimmune world, and has been a leader in the Paleo and gluten-free movement for nearly ten years. Danielle has appeared on the Today show, The Doctors, Fox News, Access Hollywood, Hallmark's Home & Family, and many other syndicated shows. Her work has been featured in People, O (The Oprah Magazine), USA Today, Shape, Women's Health, Parents, and Fitness, among others, and she is a frequent contributor to Today.com.
About Annie F. Downs:
Annie F. Downs is a bestselling author, speaker, and podcaster based in Nashville, Tennessee. Flawed but funny, she uses her words to highlight the everyday goodness of a real and present God. An author of multiple bestselling books- including the newly released Remember God, and 100 Days to Brave, Annie also loves traveling around the country speaking at conferences, churches, and events. By weaving together personal stories, humor, and Scripture, she invites those reading to experience fulfilled lives with a God who made them on purpose and loves them deeply. While Annie hosts the weekly popular That Sounds Fun Podcast, she is also a co-host on the long-running Relevant Podcast. Annie is a huge fan of bands with banjos, glitter, her community of friends, boiled peanuts, and soccer. Read more at anniefdowns.com and follow her @anniefdowns.
About Compassion LIVE:
Compassion LIVE, established in 2014 by Compassion International, provides the highest quality events for families to join together and grow with others in faith. Compassion LIVE partners with impact-making leaders, artists and communicators to produce life-changing events that share the message of faith and impact the church for children around the world. For more information, visit www.compassionlive.com.
Founded in 1952, Compassion International is a Christian child development organization that works to release children from poverty in Jesus' name. Compassion revolutionized the fight against global poverty by working exclusively with the Church to lift children out of spiritual, economic, social and physical poverty. Compassion partners with more than 6,700 churches in 25 countries to deliver its holistic child development program to over 1.8 million babies, children and young adults. Compassion's child sponsorship program has been validated through independent, empirical research. For more about the ministry, visit compassion.com or follow them on Twitter @compassion.
Stay Connected With Compassion LIVE:
www.facebook.com/compassionlive
www.instagram.com/compassionlive
##