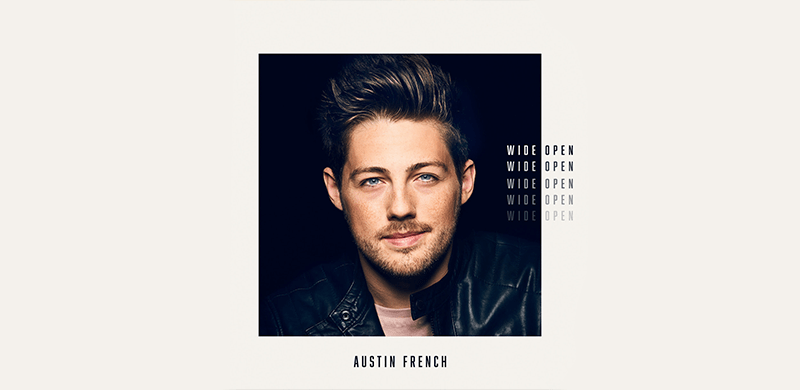 Wide Open Now Available for
Pre-Order with Four Instant Grat Tracks
Ahead of Sept. 7th Release
Nashville, Tenn. (Jul. 20, 2018) – "Born Again," the latest track from contemporary pop artist Austin French, is available today. Off the singer's anticipated album, Wide Open, the song is set to impact Christian radio on Aug. 24th as the second single from the record, following his debut hit "Freedom Hymn," which hit top 10. Inspired by the stories of close friends, French was reminded that being a Christian is so much more than a status – that being born again means a new start and ultimately new life. "Born Again" is now available here.
"Following Jesus changes everything. No matter what you have done or what has been done to you, if you follow Jesus you are not defined by your scars. You are given new life through His," said French. "We are not old creations that have learned new tricks to look like we are Christians. We have been set free and given a new life. We have been born again."
Wide Open, the anticipated debut album from the new Fair Trade Services signee, is now available for pre-order today with four instant grat tracks in advance of its

Sept. 7th

release. French has released five songs off the project, the current chart-topping single, "Freedom Hymn," "Wide Open," "Why God," "Good Feeling," and his latest "Born Again."
Wide Open Track Listing:
1. Wide Open (Feat. Matthew West)
2.
Freedom Hymn
3. Why God
4. Born Again
5. I Need A Hallelujah
6. Good Feeling
7. Living Proof
8. In America
9. Bring It To You
10. Holy Ground
11. Break My Heart
12. Spirit Speak (Feat. Joscelyn French)
##