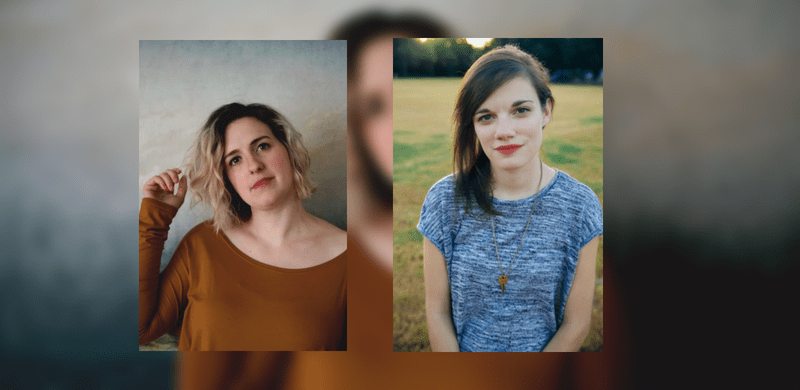 Women In Popular Music Comprise 2% Of Producers, 12% Songwriters, 16.8% Artists; Assad Aspires To Help Level Gender Gap In Music Business
Kroger's Bloom Slated To Release Fall 2018, PledgeMusic Preorder Available Now
Acclaimed singer, songwriter and author Audrey Assad adds "producer" to her long list of credits, producing not only her current, 5-star-acclaimed Evergreen, but also now extending her talents to worship artist Sarah Kroger. Assad will produce Kroger's third recording and first full-length album, Bloom, slated to release fall 2018 and available to preorder now from PledgeMusic.
Lauded by RELEVANT, CCM Magazine, Aleteia and more, Assad's Evergreen hit No. 3 on Billboard's Top Christian and Gospel Albums sales chart while receiving well-over two million streams and counting on Spotify alone. Assad is also highlighted at No. 1 on NewReleaseToday's list of top 10 female vocalists, featured on Catholic Digest's May cover and was interviewed by Jonathan Merritt for a Religion News Service story about Assad's spiritual evolution.

Along with her spiritual evolution, Assad is also evolving as an artist and woman in the music business, a business that features mostly men. According to a study featured in Billboard, 2017 marked a six-year-low with only 16.8% of popular music's artists being women, 12.3% were songwriters, 9.3% were nominated for a Grammy Award and 2% were producers.
"I know there are organizations, including some here in Nashville, that are already addressing this disparity, like Sound Girls," shares Assad. "I'm glad to add my voice to this conversation, and am looking forward to beginning work on Sarah's new album."
"Audrey Assad is a good friend and someone whose work I am continuously been inspired by," says Kroger. "I could not be more excited to have her at the helm as we start tracking the songs this month. If all goes according to plan, Bloom will be out to Pledgers by October."
Like the bud of a flower set to blossom, Kroger's Bloom promises to be filled with songs of remembrance that encourage listeners to dream big and love deeply.
"I needed to remember the simple truth that at the core of my identity, I am 'Beloved,' so we wrote some songs from that place," shares Kroger. "How different our world would look if we all were able to embrace and live in that truth. It's time to start living like we believe we're the children of God, who loves us unconditionally."
For more information on Sarah Kroger and Bloom, go to www.sarahkroger.com, PledgeMusic, Facebook, Twitter, Instagram and her blog.
For more information on Audrey Assad and Evergreen, go to www.audreyassad.com, Facebook, Twitter, Instagram and YouTube.com.
About Audrey Assad:
Lauded by the New York Times, multiple Dove Award nominee and iTunes Christian Breakthrough Album of the Year recipient (The House You're Building, 2010) Assad releases music she calls "soundtracks for prayer" on Fortunate Fall Records. Forging through the flames of personal pain in the deepest corners of her broken heart, Assad's Evergreen, released earlier this year, features songs of rebirth, identity, the rebuilding of trust and discovery of joy and love.
In addition to her top-charting albums, Audrey speaks about art, faith, womanhood, justice and pornography addiction at Catholic and evangelical events such as Q Ideas, Focus Conferences and more. She has written songs for Matt Maher, Christy Nockels, Meredith Andrews and others, is featured on Chris Tomlin's RIAA certified Gold record, Glory in the Highest (2009), and her cover of Pink Floyd's "Wish You Were Here" is heard in the 2016 season opener of NBC's Timeless.
Having toured with Tenth Avenue North, Matt Maher, Jars of Clay and others, Audrey has further been featured at World Youth Day 2016 (Poland), Mass at St Patrick's Cathedral and during the Papal Event "World Meeting of Families." She also writes reflective and devotional entries for the likes of Christianity Today, the Magnificat and Blessed is She.
About Sarah Kroger:
Musician, songwriter and worship leader Sarah Kroger has been leading worship at a range of national and international events for the past eight years. Her passion is to create a safe, prayerful space through her music in which people can encounter the love of God. In addition to her anticipated studio album, Bloom, Kroger has released three acclaimed recordings, Your Time (2011), Hallelujah Is Our Song (2013) and the "I Choose You" (2017) love song she wrote as a surprise for her husband on their wedding day. Sarah currently lives in Nashville, TN with her husband, Dom.

# #