Andrew Peterson "Resurrection Letters" Recordings Gather 5-Star Acclaim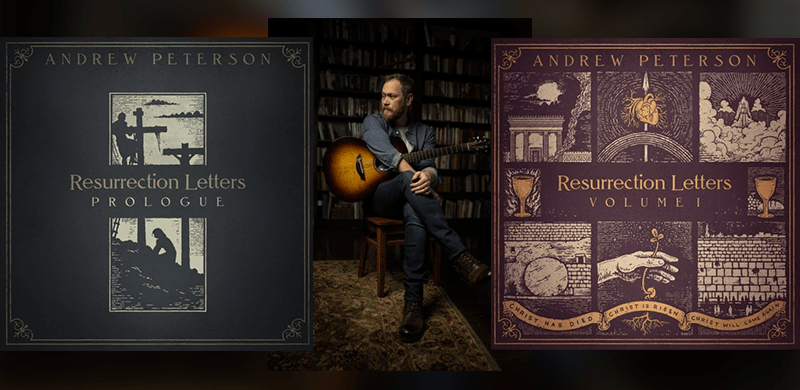 Vol. I Called A "Masterpiece" (CCM Magazine),
"One Of His Best" (The Gospel Coalition),
"Simply Remarkable" (Jesus Freak Hideout)

"Is He Worthy?" Video Lauded By RELEVANT
Approaches 750,000 Views
Resurrection Letters Tour Continues This Week
Dove Award-nominated recording artist, songwriter, filmmaker and award-winning author Andrew Peterson released his long-awaited album, Resurrection Letters, Vol. I, March 30 and EP, Resurrection Letters: Prologue, Feb. 9 from Centricity Music, both amidst 5-star acclaim. The most congregational songs that Peterson has ever offered, the recordings are available now as digital-only releases at iTunes, Apple Music, Amazon Music, Spotify, Google Play and more while a physical-only Deluxe Edition combining the music of both projects is at favorite retailers everywhere.
Peterson's Resurrection Letters: Prologue is a collection of five "waiting songs" meant to remind listeners of the gravity of the crucifixion while Resurrection Letters, Vol. I begins with the heartbeat of the resurrected Christ, exploring the resurrection itself and its centrality to Christianity.
Vol. I features songs like "I've seen Too Much," "His Heart Beats" and "Is He Worthy?" The latter song became the first video from the album that was premiered by The Gospel Coalition and called "a moving meditation on the coming kingdom of heaven" by RELEVANT Magazine. The video has already been viewed nearly 750,000 times on Andrew's Facebook and YouTube pages.
Produced by Ben Shive, Resurrection Letters, Vol. I is the prequel (think Star Wars) to the highly acclaimed album Peterson released and Shive produced in 2008, Resurrection Letters, Vol. II, which is more about the implications of Christ's resurrection victory over sin and death in our own lives. Ten years in the making, the celebratory new Vol. I is meant to move listeners to a greater gratitude, awe and love for God.
A doctoral student at St. Andrew's in Scotland and editor of the publication Transpositions confirms that "the Resurrection Letters project will add much-needed depth and meaning to this historic event and the ways that Christ will indeed make all things new" as Mark Geil offers in his review on the Rabbit Room that "this music can now remind a desperate world that victory has come and victory is promised."
"Resurrection Letters Vol. 1 is a lovingly crafted masterpiece…If you're already a fan, we don't have to tell you to hurry up and add this to your collection, but for those who haven't discovered Andrew Peterson yet, the Resurrection Letters trilogy is a perfect place to begin," says CCM Magazine in its 5-star review. NewReleaseToday.com adds, "Vol 1 is the perfect way to keep resurrecting joy alive in your heart every day. Every song catches a unique facet of the light of salvation as we encounter it in the living Jesus Christ."
Lauding Peterson as "simply remarkable," JesusFreakHideout.com says in its 5-star review, "Listening to both volumes of Resurrection Letters is to listen to a master at the height of his craft, diving into the most important and epic rescue story ever told."
The Gospel Coalition echoes that Vol. I is "one of his best" and provides readers with "A Guide to the Music for Andrew Peterson" while SiriusXM's "The Message" offered a "Resurrection Letters Holy Week Special" with Peterson leading into Easter and highlighting his Resurrection Letters three-album project.
World Radio's "Listening In" further features Peterson while the World News Group sponsors a Homeschool Convention event with him Friday, April 13 at the Duke Energy Convention Center in Cincinnati, OH.
Peterson's Resurrection Letters Tour continues the following day (4/14) in Detroit (Brighton, MI), where a second event was added due to the first one selling out. Leading fan favorites and music from his Resurrection Letters trilogy, Peterson's tour also travels this month to Bethel, CT (4/21), Greenville, SC (4/27), Jamestown, NC (4/28) and Columbia, SC (4/29).
For more information about Peterson, including his upcoming tour dates, visit www.andrew-peterson.com, www.facebook.com/andrewpetersonmusic or www.Twitter.com/AndrewPeterson.
##