Andrew Peterson Releases "Resurrection Letters," One Album, Three Parts, Ten Years In The Making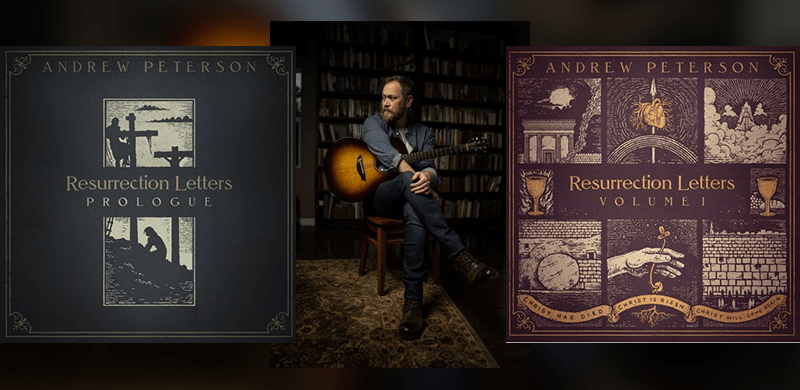 Dove Award-nominated recording artist, songwriter and award-winning author Andrew Peterson announces the long-awaited album Resurrection Letters, Vol. I, which will release March 30 and will be preceded by this week's (Feb. 9) launch of Resurrection Letters: Prologue. Both recordings will release globally from Centricity Music, and Prologue will be available Friday, Feb. 9 from digital retailers everywhere and through https://AndrewPeterson.lnk.to/Prologue.
Produced by Ben Shive, Resurrection Letters, Vol. I is the prequel (think Star Wars) to the highly acclaimed album Peterson released and Shive produced in 2008, Resurrection Letters, Vol. II. While Vol. II is more about the implications of Christ's resurrection victory over sin and death in our own lives two thousand years later, Vol. I begins with the heartbeat of the resurrected Christ while exploring the resurrection itself and its centrality to Christianity. Ten years in the making, the celebratory new volume is meant to move listeners to a greater gratitude, awe and love for God.
Releasing in time for Easter, Resurrection Letters, Vol. I features songs like "Is He Worthy," "I've seen Too Much" and "His Heart Beats," the latter track being heard on Peterson's Behold the Lamb of God tour last year. The song is about that glorious moment in the tomb when Jesus, who was dead, came back to life.
"My dream for Resurrection Letters, Vol. I is that it would be the kind of record people turned up to eleven on Easter Sunday, when Christians all over the world celebrate something that happened—it really happened—two millennia ago," says Peterson.
"But it felt odd writing about Christ's victory over death without spending at least some time on his death itself," he continues. "That led to the idea of Resurrection Letters: Prologue… In the spirit of Lent, the season of fasting that precedes Easter, we put together Prologue, a collection of five songs that take us from the last words of Jesus on the cross to his interment in the tomb. And then comes the long wait for Sunday morning."
These "waiting songs" on Prologue are meant to remind listeners of the gravity of the crucifixion and to pique longing for the moment when morning breaks and Christ triumphs over the grave.
"The hope proclaimed by Scripture is that Jesus, now at the right hand of the Father, is making all things new—and that includes you and me and all of creation," says Peterson. "My hope is that these songs would wake up a bright longing in peoples' hearts for the coming kingdom, for our resurrection, prefigured in Christ's."
See more of Peterson's explanation of how the three-part Resurrection Letters came about, including why Vol. II came first and why the new volume was so long in the making, in a blog post at The Rabbit Room.
The most congregational songs that Peterson has ever recorded, Resurrection Letters, Vol. I and Resurrection Letters: Prologue will be available as digital-only releases along with a physical-only Deluxe Edition that will combine the music of both projects.
The full Resurrection Letters, Vol. I and Resurrection Letters: Prologue track listings follow:
Resurrection Letters: Prologue
1) Last Words (Tenebrae)
2) Well Done Good and Faithful
3) The Ninth Hour
4) Always Good
5) God Rested
Resurrection Letters, Vol. I
1) His Heart Beats
2) Risen Indeed
3) Remember Me
4) I've Seen Too Much
5) Remember and Proclaim
6) Maybe Next Year
7) Rise Up
8) Is He Worthy
9) All Things Together
For more information about Peterson, including tour dates and more, visit www.andrew-peterson.com, www.facebook.com/andrewpetersonmusic or www.Twitter.com/AndrewPeterson.
##