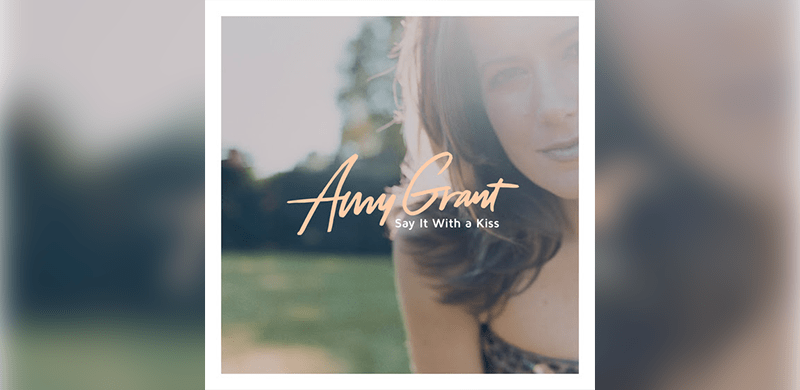 Song Hits Digital And Streaming Platforms
or The First Time This Mother's Day
Nashville, Tenn. (May 11, 2018) – Just in time for Mother's Day, Amy Grant's sentimental and timely "Say It With A Kiss" is available on digital and streaming platforms for the first time. The unifying lyrics written by the singer, songwriter, mother and grandmother, encourage listeners to prioritize love and kindness to all we meet. A video for the perennial song was released last year.
"Delivery is everything. No matter what it is we want to communicate to those we love, how we deliver the message determines the success of its reception," shares the six-time GRAMMY® winner. "'Say It With A Kiss' is a fun reminder that love is the best language of all."
To listen to "Say It With A Kiss," click here.
About Amy Grant:
Amy Grant's career spans more than 30 years and stretches from her roots in gospel into becoming an iconic pop star, songwriter, television personality and philanthropist. With three multi-platinum albums, six platinum albums and four gold albums, her total career album sales have exceeded 30 million. Grant's chart success has been consistent throughout her career with six No. 1 hits, 10 Top 40 pop singles, 17 Top 40 Adult Contemporary tracks and multiple Contemporary Christian chart-toppers. In addition to her six GRAMMY® Awards, Grant has earned 26 Dove Awards (including four Artist of the Year Awards) and has been awarded a star on the Hollywood Walk of Fame as well as the Music City Walk of Fame. Conventional wisdom has it that Grant put Contemporary Christian Music on the map becoming the first Contemporary Christian artist to have a platinum record, the first to hit No. 1 on the Pop charts and the first to perform at the GRAMMY® Awards. With that, her legacy as one of the most influential artists of the past four decades is assured. In April of 2016, Grant celebrated the 25th anniversary of her iconic hit "Baby Baby" with a worldwide release of the song featuring pop sensation Tori Kelly. Tennessee Christmas released in late 2016, marking Grant's first all-new holiday album in nearly 20 years.
##