40 Days & 40 Nights of Gospel Music At The Ark Encounter Expands To Include Creation Museum
Wilmington, NC (January 26, 2022) – Abraham Productions, Inc. and the Ark Encounter announce that 40 Days & 40 Nights of Gospel Music will expand for the year 2022 by adding concerts at the Creation Museum, the sister attraction of the Ark Encounter owned by Answers In Genesis.
During the 40 Day event, concerts will now be presented every Wednesday morning at 10:30 a.m. at the Creation Museum in the newly renovated, state-of-the-art Legacy Hall.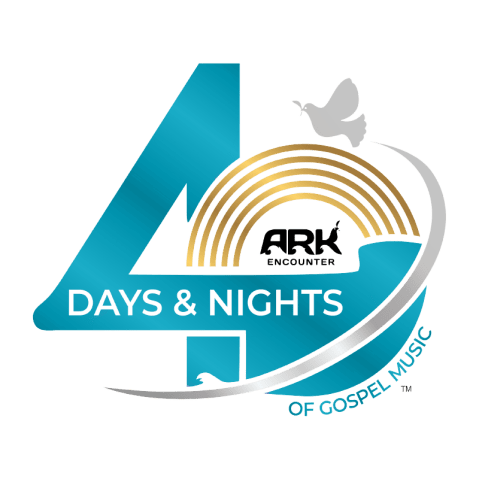 The main concert events will take place Monday through Saturday at 4 p.m. daily at the Ark Encounter's Answers Center. Sunday concerts will be presented at the Answers Center featuring TrueSong, Ken Ham and other artists and speakers.
In 2022, Singing News will also host the Ark's outdoor Noah's Village stage with multiple concerts daily (Monday – Saturday), in addition to sponsoring and having a presence at both the Creation Museum (Wednesday mornings) and the Ark Encounter (evening concerts at the Answers Center) for all of the exciting concerts. Having the main event concert at 4 p.m. will allow attendees to enjoy both the Wednesday morning concerts at Creation Museum and the park at the Ark Encounter. In addition, the restaurants will be kept open after the concerts each evening, making it extremely convenient for all the attendees.
In 2022, the roster of performing artists will also increase for 40 Days & 40 Nights of Gospel Music. New faces to the event will include The Booth Brothers, plus legendary Gospel/Bluegrass/Country artists such as Ricky Skaggs, Jimmy Fortune, and several others. Core fan favorites such as Triumphant Quartet, The Hoppers, The Isaacs, Karen Peck & New River, Ernie Haase & Signature Sound, Joseph Habedank, Legacy Five, Brian Free & Assurance, The Martins, The Primitive Quartet, Ivan Parker, The Inspirations, Jason Crabb, Jeff & Sheri Easter, Gordon Mote, The Whisnants, Emily Ann Roberts, The Mylon Hayes Family, Michael Combs, Carolina, Gold City, The Sound, and a long list of other great Southern Gospel artists are all scheduled to perform. Remarkable speakers such as Dr. Johnny Hunt, Pastor and Fox News Contributor Dr. Robert Jeffress, Pastor C.T. Townsend, Dr. Tim Hill, Comedian Dennis Swanberg, Dr. Jeff Laborg, Pastor Tyler Gaulden, Dr. Neal Jackson, AIG CEO Ken Ham, and so many others will also be at 40 Days & 40 Nights of Gospel Music in 2022.
Entry to either park gives you free access to the concerts and no additional ticket is required. For all the details regarding the 40 Days & 40 Nights of Gospel Music at the Ark Encounter and Creation Museum, scheduled for Aug. 2 – Sept. 10, 2022, go to 40DaysOfGospelMusic.com or AbrahamProductions.net and ArkEncounter.com. You may also call (888) 238-6858.