Zach Williams Receives RIAA Gold Certification Plaque for Hit Song "Chain Breaker"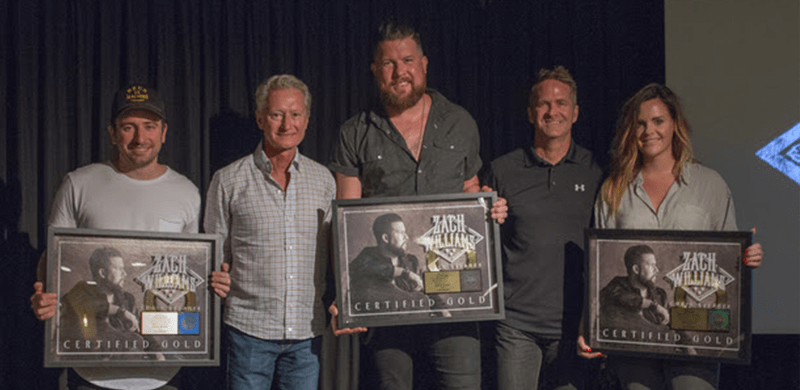 Record-Breaking Single
Recognized At BMI Awards,
Held Last Night
Williams Performs To Sold-Out Crowd
At Historic Ryman Auditorium
Prior To Receiving BMI Award
20 June 2018 – Nashville, TN – Earlier this year Provident Label Group/Sony Music proudly announced that Zach Williams' record-breaking single, "Chain Breaker," became RIAA Certified Gold. Earlier this week in Nashville, Williams was presented with the official gold plaque, surrounded by his family, management, label team and fellow songwriters Mia Fieldes and Jonathan Smith.
When it released in the early fall of 2016, "Chain Breaker" was an instant hit, holding the No. 1 spot at radio for an astounding 15 weeks. The song was then followed by "Old Church Choir," which became the most successful Christian radio single in over a decade, maintaining No. 1 at radio for 20 weeks and was the second longest running No. 1 single in Billboard's Christian radio history, naming Williams the first debut artist to have two back-to-back No. 1 singles. His current single, "Fear Is A Liar," continues to stay in the top of the radio charts as well, currently holding at No. 2. The songs are all featured on Chain Breaker, Williams' GRAMMY® Award-winning debut LP.
Last evening in Nashville, Williams was awarded by BMI with a Citation of Achievement for "Chain Breaker," recognizing the song for its national popularity and reach. Just prior to the BMI Awards, Williams performed at the Historic Ryman Auditorium in front of a sold-out audience, closing out his set with the anthemic hit song.
After headlining his own tour earlier this spring, Williams continues to tour this summer and fall around the U.S. For the most updated schedule please visit his tour page.
About Zach Williams
As a husband, father, singer, recording artist, songwriter and worship leader, GRAMMY® winner (Best Contemporary Christian Album, Chain Breaker) and multi-GMA Dove Awards winner (New Artist of the Year) Zach Williams continues to make history. Achieving two consecutive radio No. 1 hits for 35 weeks as a debut artist ("Chain Breaker," "Old Church Choir") Williams' music comes from a place of humility and honesty as his songs are a direct reflection of God's redemption in his life.
"Chain Breaker" has impacted millions of people around the world, earning him his first GRAMMY®nomination (Best Contemporary Christian Music Performance/Song, 2017) and a Billboard Music Award nomination (Top Christian Song). He's also won two GMA Dove Awards (New Artist; Pop/Contemporary Recorded Song of the Year, "Chain Breaker") and a K-LOVE Fan Award (for Breakout Single). Williams was also named Billboard's 2017 Top Christian Male Vocalist and New Artist of the Year. Apple Music chose him as Artist of the Week in December 2016, while "Chain Breaker" was the top track of 2016 on iTunes' Christian Songs chart and also reached No. 12 on Billboard's Hot Rock Songs chart.
"Old Church Choir" also received national recognition thanks to a young girl feeling the spirit of the song during a performance at her church in Tennessee. At press time, the video, which can be viewed here, has received more than 54 million views.
##