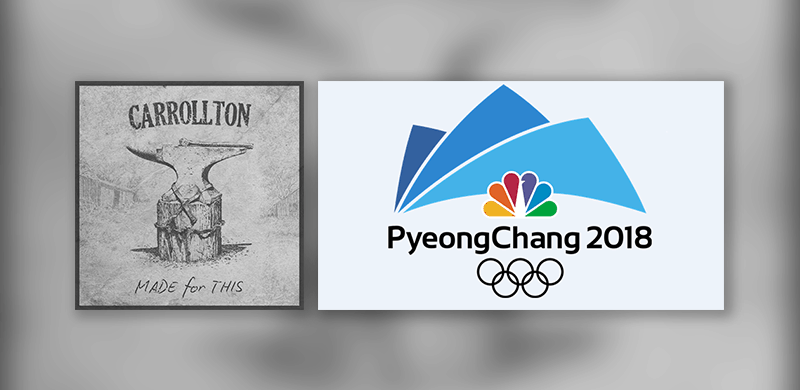 NASHVILLE, TN. (Nov. 2) – Centricity Music indie-rock band Carrollton is going for the gold: NBCUniversal has chosen one of their songs to promote the 2018 Winter Olympics. The brand new track, "Made For This," can be heard on Olympic advertisements and other features on various NBCUniversal outlets leading up to the international event in February. It will be available Friday, Nov. 3 on iTunes and all streaming platforms.

Carrollton penned the tune with Solomon Olds (Family Force Five) and Lauren Olds; Lincoln Parish (Cage The Elephant) served as producer. Centricity Publishing shared "Made For This" with NBCUniversal executives earlier this fall, and the network ultimately requested the song's use for promotion of the upcoming games, which will take place in PyeongChang, South Korea February 9-25 and air on NBCU channels.

"This song is a powerful anthem, with attitude and imagery that make it a perfect match for the Olympics," said Chad Segura, VP of Centricity Publishing. "And it's so fun to watch this band that we love and believe in have an opportunity to be connected to such an iconic worldwide event."

[ Watch NBC's first Winter Olympics "Made For This" promotion]
With sonic intensity and powerful lyrics, "Made For This" echoes strength and determination fit for the legendary competition. Carrollton lead singer Justin Mosteller says the song, written with their families in mind, embodies a message of perseverance relatable to anyone's pursuit of his/her goals—themselves included.
"With the band and all that comes with it…this way of life isn't for everyone, but somehow, for this time, we think we're made for it," said Mosteller. "This song is the passionate outpouring of a deep conviction we have about this 'thing' we get to do."
He went on to describe the excitement and thankfulness the band felt when they were told NBC wanted to use the song.
"We are extremely grateful and honored. To have our song be a part of something historic like this is absolutely crazy to us. Needless to say, we, along with all of our friends, will not be skipping commercials for the next three months of our lives."
Carrollton just wrapped up a headlining tour that followed the release of their new album Everything Or Nothing. The record's first single "Shelter" is climbing the radio charts, currently standing at 43 NCA.
For more information on Carrollton, visit their website, Facebook, Twitter, and Instagram pages.
##