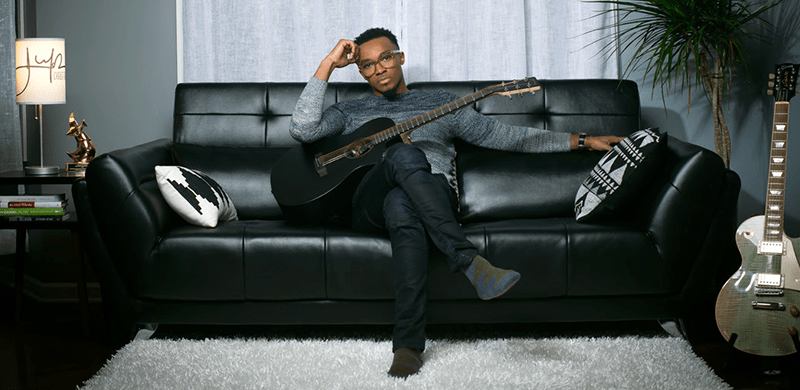 "Jonathan McReynolds: Make Room"
This Sunday, June 10th, at 8P/7C
Tidal Streaming Premiere Later This Month
New York, NY June 8 2018: Inspiration recording artist, singer-songwriter-musician Jonathan McReynolds, has announced that TVOne will re-broadcast his new TV special, "Jonathan McReynolds: Make Room" this Sunday, June 10th, at 8/7c. The special is slated for its digital streaming premiere on June 22nd in partnership with TIDAL.
In addition to McReynolds' performance, the hour-long special will feature behind-the-scenes footage from the recording of Jonathan's new live album "Make Room," released March 9th on Entertainment One. The special will feature performances of hit album singles "Cycles" and "Not Lucky, I'm Loved." The album and special were recorded at CineSpace Chicago in May 2017, and follow Jonathan, his band, and an impressive roster of guest musicians through a spirited and constantly-evolving live set which flows effortlessly between inspired improvisation and tightly rehearsed composition.
The elastic nature of the performance is a testament to Jonathan's mastery as an artist just as much as his genuine passion, delivering each moment with the same absolute conviction and spellbinding earnestness and charisma. The tight editing and camera work of the TV special service the performance perfectly, capturing as much of Jonathan as it does of the room and audience around him. The TV version makes even clearer how innovative and novel Jonathan's approach to the live album is… While many artists will approach a live album as an opportunity to capture live alternative recordings of previously-released hits, Jonathan's live album features an album's worth of new compositions, making the live performance its own instrument, elevating Jonathan's playful riffs with the audience, as well as their whoops and cheers to a part of the songs themselves. "Jonathan McReynolds: Make Room" isn't just a Jonathan McReynolds concert or a behind-the-scenes look at the album recording process… it's both at once, watching in real-time with the audience as the record takes shape.
At the time, Jonathan explains, "it felt bigger than me. I poured my heart into every element of Make Room. My heart is about to be aired on national TV…for an hour. I am ecstatic. And maybe a little scared."
Jonathan's upcoming special is more than just a landmark in the 28-year-old's already prolific career, it is a landmark for the whole Gospel genre.
Upon its debut, "Make Room" landed in the #1 slot on Billboard's Gospel Album Charts and #2 on Top Christian/Gospel albums, as well as breaking into the mainstream at #27 on Top Albums and #97 on Hot 200. Jonathan's last album, 2015's "Life Music: Stage Two," spent four weeks at #1 on the Billboard Gospel chart. The album is currently in its 12th week on Soundscan's Current Gospel Albums.
June 11-12 Immerse Conference, Nashville, TN
June 15 Houston, TX
June 21 Florence, SC
June 22 New York, NY
June 24 Chicago, IL
July 4-9 Oslo, Norway
July 13 Chicago, IL
July 14 Waukegan, IL
July 19 Austell, GA
July 20 Landover MD
Aug 5 Indianapolis, IN
About TV One
Launched in January 2004, TV One serves 59 million households, offering a broad range of real-life and entertainment-focused original programming, classic series, movies and music designed to entertain and inform a diverse audience of adult black viewers. The network represents the best in black culture and entertainment with fan favorite shows Uncensored, Unsung, Rickey Smiley For Real, Fatal Attraction and The NAACP Image Awards. In addition, TV One is the cable home of blockbuster drama Empire. TV One is solely owned by Urban One, Inc., formerly known as Radio One, Inc. [NASDAQ: UONE and UONEK, www.urban1.com, the largest African-American owned multi-media company primarily targeting Black and urban audiences.