Three-Time GRAMMY® Winner, Tennessee's Ashley Cleveland and Producer/Director Bart Peters Docu "Who's The Girl? The Story of Ashley Cleveland" Sweep Knoxville Film Festival with 3 Top Awards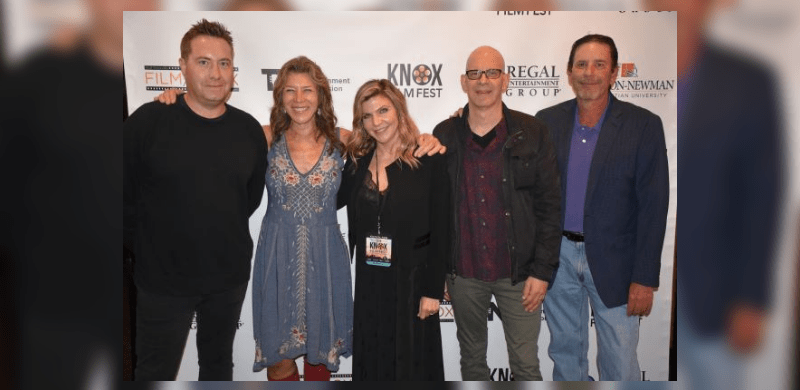 Produced and Directed by Peters and His Nashville Based Big Branch Productions, Film Takes "1st Place Tennessee Film Documentary", "1st Place Documentary Feature" and "Audience Favorite, Tennessee Film Documentary"
(Nashville, TN) – The turbulent career and life of three-time Grammy winning Tennessee singer/songwriter Ashley Cleveland came into sharp focus when the documentary feature film, "Who's The Girl? The Story of Ashley Cleveland," took top honors in three key categories at the recent Knoxville Film Festival: "1st Place Tennessee Film Documentary", "1st Place Documentary Feature" and "Audience Favorite, Tennessee Film Documentary."
The film's producer/director Bart Peters, head of Big Branch Productions, said from his Nashville offices, "While the extraordinary recognition awarded our film is thrilling and extremely gratifying, I am not surprised because Ashley's story is real and raw, tender and terrifying, full of courage, conviction and monumental talent. This is a documentary in the truest sense, an honest portrayal of the full spectrum of human experience, a story of struggle and redemption, ultimately a celebration of life."
Since her debut on Atlantic Records in 1991, Ashley Cleveland has recorded ten critically acclaimed albums. She was the first woman to be nominated for a GRAMMY in the Best Rock Gospel Album category and the only woman to ever win the award three times (Lesson of Love, 1995; You Are There, 1998; Before The Daylight's Shot, 2007). Receiving her fourth GRAMMY nomination in 2010 for Best Traditional Gospel Album for God Don't Never Change, a collection of spirituals, Cleveland also has two Dove Awards for her contributions to Songs From The Loft (1993) and The Jesus Record (1998). In 2013 Cleveland released her memoir, Little Black Sheep which was the genesis of the documentary. When Ashley's Manager Ted Greene (Modern Management) read her amazing story he knew it deserved to be told on a larger scale. That's when he called Bart Peters.
Of her wins for the film, Cleveland said, "Bart and Big Branch shot this movie off and on for four years— that's a lot of celluloid. The intuition, perspective and sensitivity they brought made for a final film that I am very, very proud of. The Knox Film Festival awards are some pretty sweet icing!"
Co-Producer, Jenifer Peters said, "This film is especially relevant in today's social environment as Ashley's story is emblematic of the empowerment of women who endure challenges on so many levels. Ashley Cleveland is living proof of how strength of character, honest personal assessment and indomitable willpower are the keys to helping overcome the most difficult of life's hardships."
Bart Peters, former head of Programming, Development & Production at Audience Network and currently the executive producer of the hit comedy series Loudermilk, recently established a Nashville office of Big Branch Productions to produce original content across all genres and platforms including film, television, music and live events. The company also has offices in Los Angeles. Peters has produced 200 music concerts and shows, including events with Jennifer Lopez and Taylor Swift. Currently in post-production is a music special recently shot in Nashville featuring artists, Andy Grammer, Hunter Hayes and Dave Barnes.
Knoxville Film Festival Recap of awards for "Who's The Girl? The Story of Ashley Cleveland"
1st Place Tennessee Film Documentary
WHO'S THE GIRL? THE STORY OF ASHLEY CLEVELAND – Bart Peters, Producer/Director
1st Place Documentary Feature
WHO'S THE GIRL? THE STORY OF ASHLEY CLEVELAND – Bart Peters, Producer/Director
Audience Favorite – Tennessee Film Documentary
WHO'S THE GIRL? THE STORY OF ASHLEY CLEVELAND – Bart Peters, Producer/Director
##