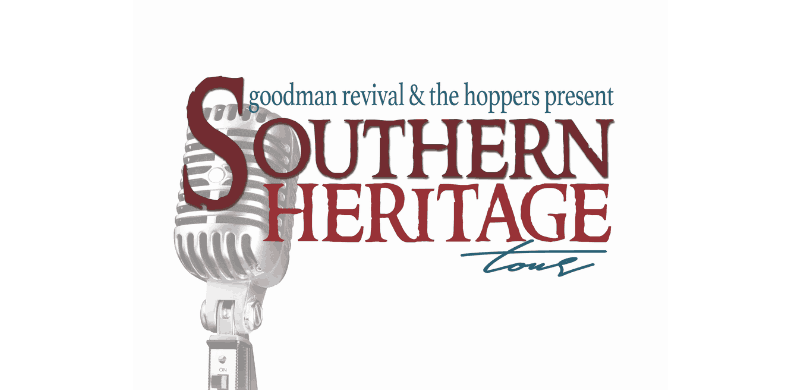 Nashville, TN (December 4, 2018) – Few family names have stood the test of time in Gospel music quite like Hopper and Goodman. Collectively, these families have been awarded an array of accolades and have been responsible for countless chart-topping hits including, "I Wouldn't Take Nothing For My Journey Now," "Shoutin' Time," "Who Am I," and "Mention My Name." Now, for the first time, these legendary names will join forces as The Hoppers and Goodman Revival present the Southern Heritage Tour.
The Southern Heritage Tour kicks off late Spring of 2019 and brings these renowned family groups to over 25 cities across the country. With a nod to the old and glimpse of the new, The Southern Heritage Tour will be an unforgettable evening of beloved classics and current favorites performed by the Gospel Music Hall of Fame members. Audiences will enjoy a rare chance to experience music and voices that together have stood the test of time in one remarkable presentation.
Tour dates will be announced in the coming weeks. Visit www.thehoppers.com or www.goodmanrevival.com for more information as it becomes available.
Multi-award winning family group The Hoppers have been singing to global audiences for over 60 years with appearances ranging from presidential religious inaugural ceremonies and New York's Carnegie Hall to singing conventions and church platforms. They have performed throughout the United States as well as in Israel, Europe and Africa. Their unique blend of harmonies and song choices have created a legacy of musical excellence embraced by leading pastors and event organizers. Known as America's Favorite Family of Gospel Music, they are favorites on the Gaither Homecoming videos and tours, and their recordings frequently land at the top of the Billboard sales charts and The Singing News radio charts.
In the world of Southern Gospel music, few names carry a more substantial legacy than Goodman. Creativity, authenticity and a passion for sharing the good news of Jesus Christ have long been the cornerstones of the Happy Goodmans' sound and message. With the same goals in mind, Rusty Goodman's daughter, Tanya Goodman Sykes, has teamed up with her husband, Michael Sykes and Johnny Minick, a long-time member of the Happy Goodmans, to once again propel the Goodman family name into the spotlight with Goodman Revival.
##