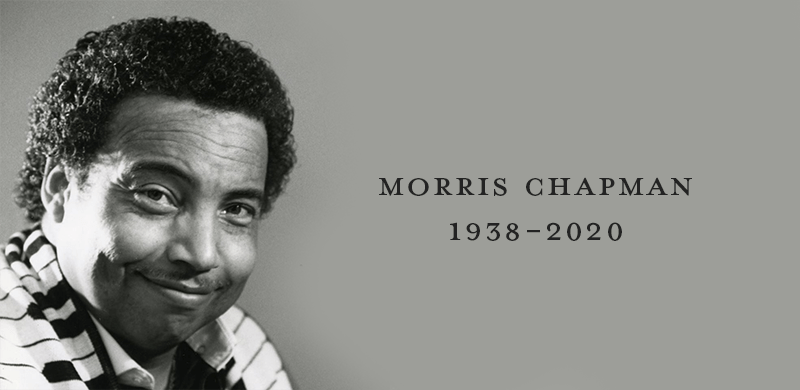 Grammy ® and Dove Award nominated Christian music composer, worship leader and recording artist Morris Chapman died on May 2, 2020 in Las Vegas after a prostate cancer battle. His songs have been recorded by a who's who of Christian music such as Sandi Patty, Donald Lawrence & the Tri-City Singers, The Brooklyn Tabernacle Choir, Bill & Gloria Gaither and football legend, Rosey Grier. As a recording artist, he's best-known for the songs "I Know the Plans" and "Bethlehem Morning."
"On behalf of the Gospel Music Association and the Board of Directors and officers, I want to extend our sincere condolences to the family of Morris Chapman," says Jackie Patillo, President and Executive Director of the Nashville-based Gospel Music Association. "Morris Chapman will always be a part of the tapestry of Christian and Gospel music. He was a true worshipper who set the atmosphere with his gentle authority and led us to the throne of grace with his songs. He will be missed but never forgotten."
The second oldest of a dozen children, Chapman was born February 26, 1938 in Camden, Arkansas. He taught himself to sing and play the piano by sneaking into a local church at night. After dropping out of high school, Chapman and his entire family relocated to Las Vegas in 1957. By the 1970s, he was working as a janitor while serving as a member of televangelist Bill Sharp's Centerama Christian Church where he worked in the music department. The first recording bearing his name was the church's "New Sounds from Vegas" LP which included him singing, "Give Them All to Jesus."
In 1978, he released his first solo LP, "Jesus, I Put All My Trust in You." From the start, he crafted a middle of the road sound that bridged the divide that often separated churches among racial lines. Soon, he signed to Word Records where he released five albums – including "Longtime Friends" which earned him a 1983 Grammy® Award nomination for Best Soul Gospel Performance. During that period, he became known for songs such as "I May Not Always Be There," "Be Bold, Be Strong" and "Since God is For You," a Top 15 Contemporary Christian radio hit.
"Morris released an album entitled `Lately' many years ago," Washington, D.C.'s longtime WHUR 96.3 FM gospel radio personality Patrick Ellis recalls. "The song `I May Not Always Be There' tickled my ears, and I began to play it. The response from my audience was immediate. It became a standard request on my show for many years and still is. That song certainly goes down in the annals of my Gospelspirit radio show."
Nearly 100 acts have recorded Chapman's tune "Bethlehem Morning" – including Sandi Patty, Donald Lawrence & the Tri-City Singers and Caleb Collins. "Morris discovered my Hymns CD in a Family Christian Bookstore and somehow found a way to email me and let me know how much he enjoyed it," says Collins who grew up listening to Chapman's music. "I was blown away and told him he was probably hearing pieces of himself in my music, since I had listened to him for so many years… He had the gift of instantly getting you into the presence of God. When he sat down at the piano, the first chord he played would set the mood and let you know that you were about to go on a journey with him."
In the 1990s, Chapman recorded and wrote music for Maranatha Music while also becoming a worship leader with the Promise Keeper's organization. Then, for nearly a decade, he recorded several albums under the Tyscot Records banner that produced classic songs such as "The Psalmist" and "I Know the Plans." Tyscot founder, Bishop Leonard Scott says, "It was an honor to record with him on the `Celebration of Praise' album in 1997. Morris introduced me to many great and powerful ministries, including the International Worship Institute and Promise Keepers. He was a real encourager, a modern-day Barnabas. Morris taught us through his music to `Be bold, be strong, for the Lord thy God is with thee.' We will miss the music, the man and his ministry."
Over the years. Chapman's calming, fatherly presence earned him the nickname of Papa Morris among his peers and the subsequent generations of singers he encountered. "I've been involved in the Christian music world for "over 45 years now and have known and worked with just about every artist during that time," says Joe Battaglia of Renaissance Communications. "Some were amazingly talented, some were unfortunately self-destructive, some were gifted like few artists I've ever known, mainstream or Christian. And some, like Morris Chapman, had a persevering grace and humility to go along with their talent and giftedness. They knew whose they were, and what was the essence of their message. Morris was one of those artists. A gentleman, a communicator, a lover of Christ. Rest in peace, Morris."
Chapman's last album, Gospel Praise (Maranatha) was released in 2011 and his autobiography, I Know the Plans, was published by Cool River Books in 2013. His wife, Shirley Rayford Chapman, died in 2014. He is survived by five adult children (Kevin, Karen, Kenneth, Kristen and Kimberly), several grandchildren and other extended family.
##