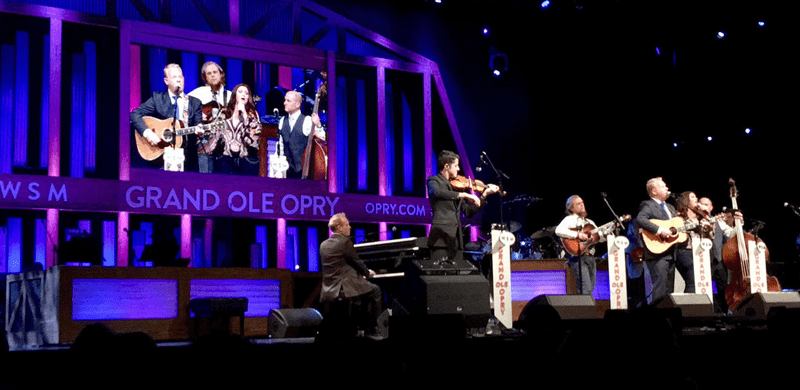 TaRanda Greene with Dailey and Vincent on the Grand Ole Opry stage
Photo Credit: Kristen Bearfield, KB Photography
Nashville, TN (August 10, 2017) Gospel Music sensation TaRanda Greene made a surprise appearance at the Grand Ole Opry Tuesday night with the Opry's latest inductees, Dailey and Vincent. The trio closed the program by singing "Go Rest High on That Mountain" in honor and memory of Glen Campbell.
Shortly after the performance, Vince Gill called to thank them for singing his song on the program and reminded them that you never know who is listening.
"Decades ago, my papaw, Dennis Smith, stood on the Grand Ole Opry stage and sang a gospel song," TaRanda said. "Last night, I was honored to continue my family legacy by standing in that historic circle and for the first time on that beloved stage, helping my friends sing this song to celebrate the home-going of the great Glen Campbell. Thank you, Jamie and Darrin, and the gracious members of the Opry for inviting me to be a part of this. And to the Rhinestone Cowboy…tell my papaw it was as amazing as he always said it would be."
Grand Ole Opry member Jamie Dailey of Daily and Vincent also saw this evening as a momentous occasion. "The Grand Ole Opry is a hallowed music institution where special things happen on and off stage. Last night we were blessed to be a part of another one of those moments. TaRanda Greene came out and sang Vince Gill's "Go Rest High on That Mountain" with us in tribute to the late Glen Campbell. When she started singing with us, I had chill bumps on top of chill bumps! Thanks for coming to the Grand Ole Opry, TaRanda, and we hope to have you back soon!"
ABOUT STOWTOWN RECORDS:
Founded in 2011 and expanded in 2014, StowTown Records reflects the musical vision of Ernie Haase and Wayne Haun, in partnership with Landon Beene and Nate Goble. The independent label is the creative home for top artists including Ernie Haase & Signature Sound, The Perrys, The Collingsworth Family, Doug Anderson, Devin McGlamery, The Taylors, Cana's Voice, The Browns, The Guardians, The Little Roy & Lizzy Show, Rambo McGuire, Southern Raised, Triumphant, TaRanda Greene, Tim Lovelace, The Erwins, Trey Ivey, Jody McBrayer, Charles Billingsley and selected classic music from The Cathedrals, their legendary bass singer, George Younce, and The Cathedrals Family Reunion. Distributed worldwide through Provident/Sony Distribution, StowTown Records has quickly garnered industry attention with multiple GMA Dove Awards and chart-topping releases from their highly respected artist roster.
##