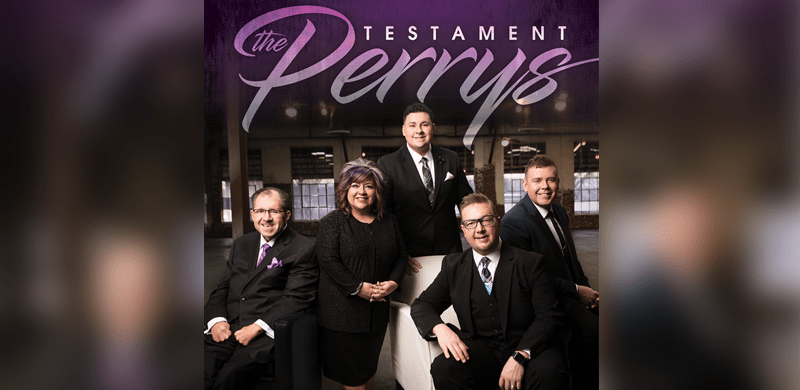 June 6, 2017 (Nashville, TN)… The Perrys and StowTown Records are thrilled to announce the brand new release of Testament!
"I honestly believe that Testament is one of the greatest works The Perrys have done in years," said Troy Peach, who is now in his second stint singing with the beloved family group. "From old classics to brand new songs, Testament is filled with what is stated to be the best album in 20 years for The Perrys!"
The very special project features 11 brand new songs of faith, hope, trust and the goodness of an Almighty King, according to the fan-favorite group's Facebook page. Testament will be another outstanding recording to add to your collection!
"Moses and Elijah" is the first radio single from the album, which will be released to the public June 9 and is being distributed exclusively to retail and digital outlets by Provident-Sony Distribution.
"We are so excited about our latest release on StowTown Records," added Peach. "We firmly believe that this selection of songs will be another must-have album for all the great fans of The Perrys. After 20 years of producing The Perrys, StowTown co-founder Wayne Haun again amazes us with his unmatched talents."
Testament, which comes on the heels of The Perrys' most recent successful StowTown project, Sing, will be available online and at Christian bookstores and outlets worldwide on June 9th.
About StowTown Records:
Founded in 2011 and expanded in 2014, StowTown Records reflects the musical vision of Ernie Haase and Wayne Haun, in partnership with Landon Beene and Nate Goble. The independent label is the creative home for top artists including Ernie Haase & Signature Sound, The Perrys, The Collingsworth Family, Doug Anderson, Devin McGlamery, The Taylors, Cana's Voice, The Browns, The Little Roy & Lizzy Show, Rambo McGuire, Southern Raised, Triumphant, Tim Lovelace, The Guardians, TaRanda Greene, The Erwins, Trey Ivey, Jody McBrayer, Charles Billingsley and selected classic music from The Cathedrals, their legendary bass singer, George Younce, and The Cathedrals Family Reunion. Distributed worldwide through Provident/Sony Distribution, StowTown Records has quickly garnered industry attention with multiple GMA Dove Awards and chart-topping releases from their highly respected artist roster.
##