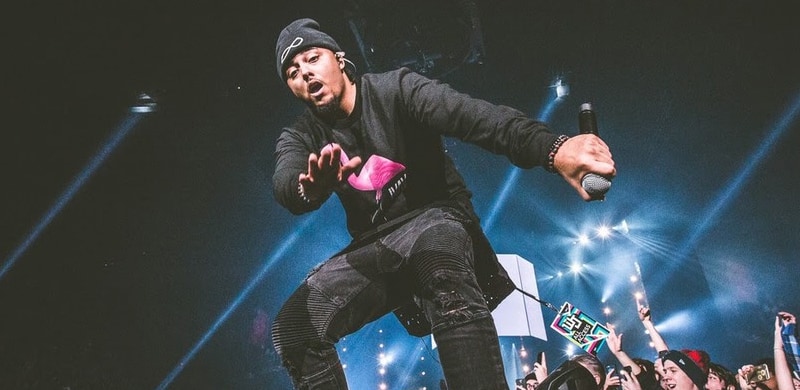 Pictured: Steven Malcolm performing at Winter Jam; Photo Credit: Caleb Cook
Spotify, ESPN Music Are Early Supporters; "Party In The Hills (feat. Andy Mineo and Hollyn)" Reaches Quarter of a Million Streams on Spotify
Nashville, Tenn. (Feb. 17, 2017) —- 4 AGAINST 5 (IVAV) recording artist, Steven Malcolm, releases his self-titled, debut album today. The project is starting the day debuting in the Top 15 of the iTunes Hip-Hop/Rap Top Albums Chart. Malcolm co-wrote the 13 songs on the project, which was co-produced by a powerful collection of GRAMMY® and Dove Award-winning producers, including: Beam, Andy Mineo, Hollyn, Pyrexx, Scootie, Tasan, Joey Jewish and Blanca. "Hot Boy," the first song and accompanying music video released from the album, is currently being featured by ESPN during NBA on ESPN games this season.
"Party In The Hills (feat. Andy Mineo and Hollyn)," one of the featured tracks from the project, and the album's second music video release, has already garnered over a quarter of a million streams on Spotify, thanks in part to being featured by Spotify on its "New Music Friday" playlist, which also catapulted the track on to Spotify's U.S. and Norway's Viral 50 charts. The song's music video – which can be viewed here – has been viewed nearly 60K times since its release on 2/6/17.
On the road, fans are getting a chance to hear Malcolm's new music live on the Winter Jam 2017 tour, both during his solo performance and during Andy Mineo's set. Steven's high-energy Hip Hop raps and his stylistic dance moves are connecting with fans.
Malcolm has several high-profile media outlets supporting his upcoming album that was launched by a feature at Nashville's newspaper, The Tennessean. The headline announced that "Christian hip-hop lands on Music Row" by reporter Nate Rau. CCM Magazine has posted a full feature with Malcolm and a review, "Not since Lecrae has Christian hip-hop experienced an innovator and entertainer to the degree of Steven Malcolm." Additional current and upcoming press includes Simple Grace Magazine (April review), Christian Post (FB Live Feb. interview), NRTLive (2/23), JesusFreakHideout.com (review and interview), Life With Purpose Radio (interview), Iconic Magazine (Jan. issue feature), among many others.
About Steven Malcolm
Steven Malcolm is a Hip Hop artist from Grand Rapids, Michigan, whose eponymous, 13-song debut album releases February 17, 2017 on IVAV. NBA on ESPN and Spotify are two of Steven's immediate supporters, with NBA on ESPN selecting "Hot Boy" to be used throughout the 2016-2017 season, and Spotify tapping "Party In The Hills (feat. Andy Mineo and Hollyn)" for Spotify's first "New Music Friday" playlist of 2017. Steven, who is currently playing to over half of a million people on Winter Jam (tour), has performed alongside artists such as Lecrae, Andy Mineo, and KB. The album Steven Malcolm features guest spots from Beam, Andy Mineo, Hollyn, Pyrexx, Scootie, Tasan, Joey Jewish, and Blanca. When not on the road, Malcolm can be found leading at The Edge Urban Fellowship, a Hip Hop church in Grand Rapids.
For additional information about Steven Malcolm visit the following links:
www.StevenMalcolm.com
Facebook
Twitter
Instagram
##