Skillet's Frontman, John Cooper, Featured On Marvel's Playback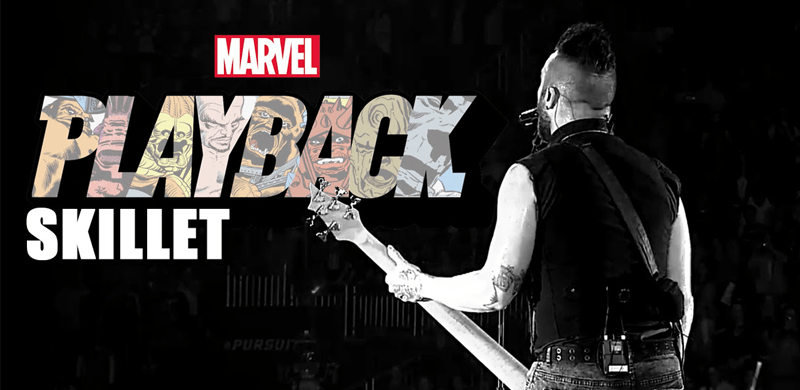 "Back From the Dead" to Appear in NBC's New Series, "Blood Drive"
Skillet Announces Extension of "Unleashed" Tour
Nashville, Tenn (April 25, 2017) – Spearheading the effort to merge the two worlds of comics and music, Marvel Entertainment's Marvel Playback opens up conversation with some of music's biggest names. GRAMMY® nominated Skillet's John Cooper joined Marvel's Playback to speak about his love for comics, and the lessons he's learned from their stories and heroes.
"What makes a hero is someone who does something selfless…Someone who stands up for someone who is weak," says Cooper. "Working in rock and roll is good, but being a hero is better."
Earning three Billboard Music Award Nominations, their most recent album, Unleashed, debuted at No. 3 on the Billboard Top 200 Album Chart. The group's single "Back From the Dead," continues to climb the charts, hitting No. 9 on the Active Rock Chart, and No. 10 on Billboard's Christian Rock Chart. "Back From The Dead" is set to be used in NBC's new series, "Blood Drive." The episode will air on NBC on June 14th.
GRAMMY® nominated Skillet has announced they will be extending their "Unleashed Tour" with the addition of three more shows. After recently wrapping three legs of their headlining tour with sold-out dates across the U.S. and Europe, the group has decided to extend the tour to Memphis, Orlando, and Atlanta in the month of June.
About Skillet:
Skillet has cemented its place as one of the 21st century's most successful rock bands. Selling more than 11 million units worldwide, the Wisconsin quartet have received two GRAMMY® Award nominations and won a Billboard Music Award for the platinum-certified Awake. Their double-platinum single "Monster" is "the eighth most-streamed rock song of 2015" with a total of 86 million plays (and counting) on Spotify and would earn the distinction of becoming "the best-selling digital single in the history of Christian Music." 2013's Rise bowed at #4 on the Billboard Top 200 upon release and received resounding and eclectic acclaim from the likes of USA Today, New York Times, Revolver, Loudwire, and more.
Get Connected With Skillet:
Website: www.skillet.com
Facebook: https://www.facebook.com/skillet/
Twitter & Instagram: @skilletmusic
##