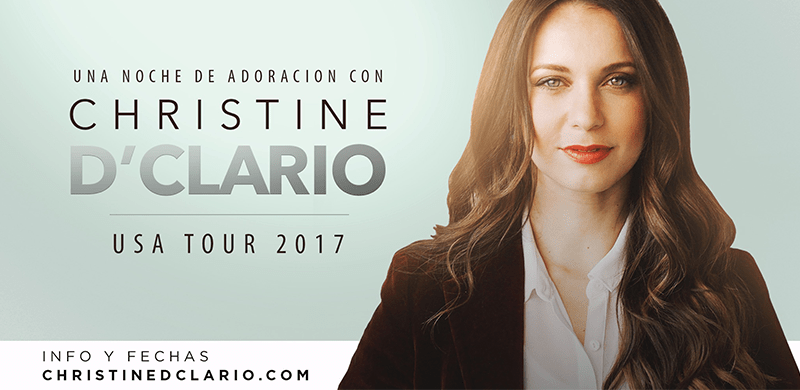 Dallas, TX – Renowned Puerto Rican Christian singer and author Christine D'Clario returns to her audience after a well-deserved break to enjoy a new stage in her life, motherhood.
D'Clario, who ventured into writing in 2016 with her book Prodigal Heart, will be touring multiple U.S. cities during the remaining months of 2017. Starting October 10th, D'Clario will perform in San Antonio, TX then continue into other western states and crossing the country to states on the east coast such as Virginia and Georgia. D'Clario will close her year again in Texas where she now resides with her family.
After the natural catastrophes in Puerto Rico and Mexico in recent weeks, D'Clario has decided to donate all proceeds of her book profits during the tour to contribute with the restoration of these countries. A portion of the tickets sales of the tour will also go to the victims of Puerto Rico and Mexico.
D'Clario's tour will be in partnership with Compassion, the non-profit organization of sponsorship for children in need of food, water, medical care, training and psychological and spiritual support. A large part of the campaign of Compassion during the tour will be to help children in different parts of Latin America, with a particular focus on Mexico.
D'Clario's book, Prodigal Heart, in which she describes her story as "a double life rescued and transformed by the love of the perfect Father," is available in English and Spanish. This is not the first time D'Clario donates the profits of her art. She surprised her audience during the launch of her book donating the earnings of this first literary fruit to missionaries affiliated with Gateway, the congregation where Christine attends and ministers.
The singer-songwriter's followers can now purchase tickets for the U.S. tour by logging on to http://www.christinedclario.com.
U.S. Tour Dates:
Oct 21 Life Center Tacoma, WA
Oct 24 Encounter Church Denver, CO
Oct 26 Tower Theatre Oklahoma City, OK
Nov 1 Tri-County Assembly Of God Fairfield, OH
Nov 3 Gordon College Wenham, MA
Nov 4 Fountain Of Life Burlington, NJ
Nov 6 Celebration Church Richmond, VA
Nov 7 Catch The Fire Worship Center Durham, NC
Dec 1 First Baptist Church Woodstock Woodstock, GA
Dec 2 Iglesia Tampa Bay Tampa, FL
Dec 5 Celebration Church/Metairie Matairie, LA
Dec 8 Antioch Community Church Waco, TX
Dec 9 Iglesia Mundo de Fe Coppell, TX
For more information, visit www.ChristineDClario.com.
##