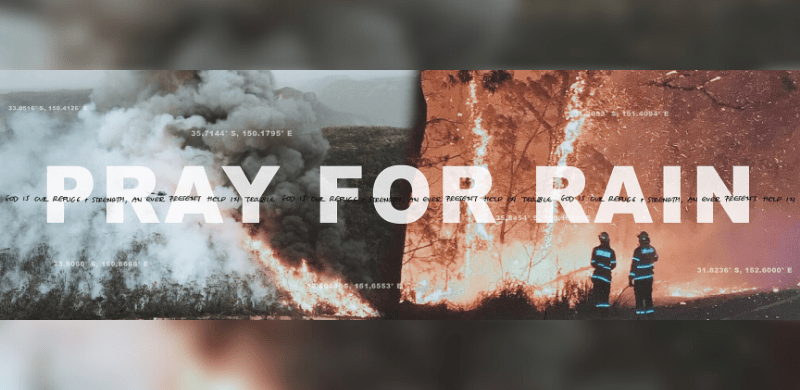 Devastated by the national emergency in Australia, Planetshakers Church, one of the fastest growing churches in Australia's history, invited its members to assist victims of the bushfires with a donation. The congregation responded, offering $252,875.89 for relief efforts through Empower, the community service arm of Planetshakers Church. All of the money collected has been forwarded to the Australian Red Cross, Salvation Army, Country Fire Victoria and ACC Bushfire Assist fund.
Inspired by the charge in Proverbs 3:27, and joining the call heard from celebrities like Nicole Kidman, Keith Urban, Chris Hemsworth and others as they encourage donations, Planetshakers Church Senior Pastor Russell Evans says, "In the face of such a catastrophe, it's inspiring to see so many individuals standing up and being generous. I'm thrilled with the love and financial support members of Planetshakers Church have contributed during this crisis."
Planetshakers Church is further involved in numerous community and charitable causes around the world, including prison ministry, school programs, refugee outreach, disaster relief and welfare assistance. In recent years, it helped bring significant social and spiritual reformation to villages in the African nation of Malawi, where poverty was defeated after seven years into a 15-year plan. It also partners with World Vision to assist in urgent humanitarian crises around the world, and runs Planetshakers College in Melbourne, which equips local and international students to impact their world for Christ.
While the fires continue to remain a major concern for all Australians, internationally recognized praise band from the church, Planetshakers, also has cause to celebrate. Today (Jan. 10) marks the global release of its Glory Part One EP, and Planetshakers will simultaneously host a "Praise Party" with 30,000 people at SMART Araneta Coliseum in Manila, Philippines. A video trailer for the EP can be seen at https://youtu.be/H-yptxNKVYc, and the recording is available now from Venture3Media (V3M) at Apple Music, iTunes, Spotify, Google Play and more digital and streaming outlets globally.
Recorded in Melbourne, Australia at Planetshakers Church, Glory Part One features over 30-minutes of music. A tangible, intentional expression of worshippers collectively pursuing the presence of God, the EP is led by Planetshakers' Joth Hunt (who also produced and mixed the EP), Sam Evans, Aimee Evans, BJ Pridham, Joshua Brown, Rudy Nikkerud, Chelsi Nikkerud and more.
Continuing its trek across the globe following the event in Manila that also features planetboom, Planetshakers travels to Sunway Pyramid Convention Centre in Subang Jaya, Malaysia (Jan. 17 – 18) and Suntec Singapore Convention & Exhibition Centre in Singapore (Jan. 19). This latter event marks the band's return to the venue following 2019's sold out celebration there.
Taking the new music and favorites like "The Anthem," "Endless Praise" and "Turn It Up" to audiences around the globe, all the latest Planetshakers tour, music and conference news can be found at Planetshakers.com, YouTube (942,000 subscribers), Instagram (564,000 followers), Spotify (750,000 monthly listeners), Twitter (173,800 followers) and Facebook (over 1.5 million followers).
Featured Photo Credit: Planetshakers Facebook