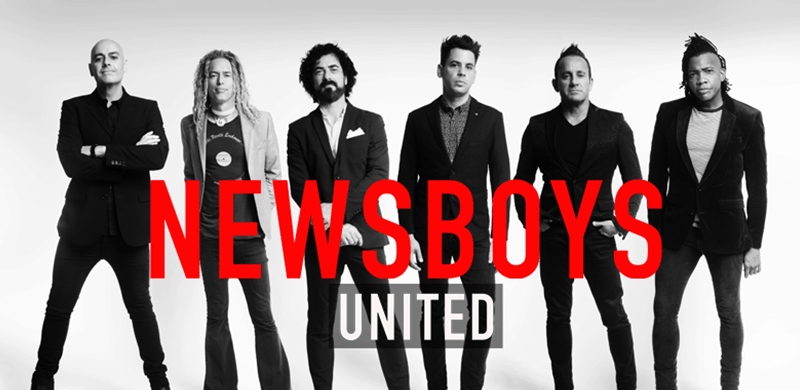 Blockbuster Outing Spans Three Decades of Hits
NASHVILLE, Tenn. — Playing to capacity audiences during a history-making string of spring and summer shows, the unprecedented "Newsboys United Tour" has been extended through the end of the year. Encompassing 40 more U.S. cities this fall, an initial slate of dates was announced today, with additional shows forthcoming. Click here for the "Newsboys United Tour" schedule.
Showcasing "all the hits… under one roof… for one tour," the "Newsboys United Tour" is set to play a total of 100 shows in 2018. The fall outing will kick-off September 17 in Buffalo, New York, hitting Washington, D.C.; Seattle; Nashville, Tennessee; Albuquerque, New Mexico; and Trenton, New Jersey, among numerous other cities, before concluding in December. Comprised of current members Michael Tait, Duncan Phillips, Jeff Frankenstein and Jody Davis, along with former bandmates Peter Furler and Phil Joel, the mega-group spans the decades delivering hit after hit, from recent chart-toppers "God's Not Dead" and "We Believe" to such classics as "Shine" and "Entertaining Angels."
"We've been so encouraged and humbled at the response from Newsboys fans, not just in the cities we've visited but from people all over the world," said Newsboys' Jeff Frankenstein. "This is so much more than just a tour, it's a celebration of different eras, individuals and the songs that have brought us together."
Sponsored by ChildFund and produced by Premier Productions in partnership with the Newsboys, the fall leg of the "Newsboys United Tour" will once again feature special guest Word recording artist Zealand—founded and fronted by Phil Joel—as well as a special appearance by singer/songwriter Adam Agee.
One of the most influential bands in Christian music history, Newsboys have sold more than 8 million units and amassed eight Gold® certifications, 33 #1 radio hits, four GRAMMY® nominations, two American Music Award nominations and multiple Dove Awards. Comprised of Michael Tait (lead vocals), Jody Davis (guitar), Jeff Frankenstein (keys) and Duncan Phillips (drums), Newsboys' signature songs include "We Believe," "He Reigns," "Miracles," "Born Again" and their Platinum®-certified mega hit, "God's Not Dead." The latter inspired one of the most popular Christian film franchises of all time.
Pollstar magazine ranks Premier Productions as the largest producer of live Christian events both nationally and all over the world. More than 18 million people have attended a Premier event in over 4,000 concerts worldwide. Premier promotes Tours for Hillsong UNITED, Hillsong Worship, Young & Free, Kari Jobe, Jesus Culture, Lecrae, Lauren Daigle, Gaither Homecoming, Sadie Robertson, Newsboys, comedian John Crist, Rend Collective, as well as their annual Winter Jam Tour Spectacular and OUTCRY Tours. Premier Festivals promote 10 of the largest Christian festivals in the U.S., including Winterfest and Kingsfest, and over 80,000 guests have sailed on cruises and gone on adventures through their vacation experience company, Premier Experience.
For further information visit newsboys.com or turningpointpr.com. Follow Newsboys on Facebook, Twitter and Instagram.
##