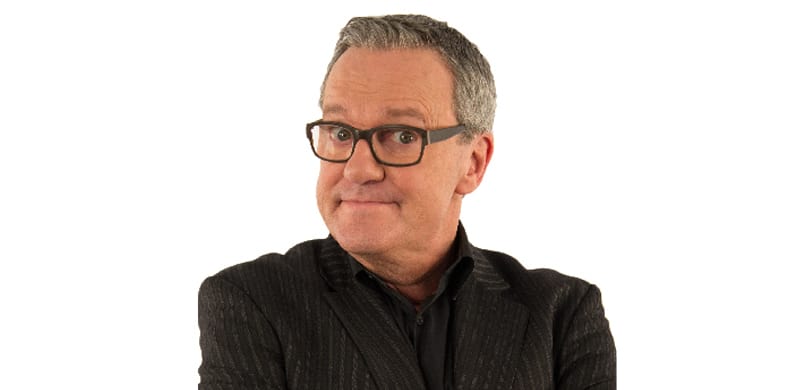 Goodlettsville, TN (May 17th, 2016) – The Harper Agency, one of Christian Music's premiere booking agencies, is pleased to announce the addition of award-winning Christian entertainer Mark Lowry to its elite roster of talented artists.
Best known for the penning of the Christmas classic, "Mary, Did You Know," the platinum-selling singer, songwriter and storyteller, with a career spanning over four decades, shows no signs of slowing down. A 2015 inductee into the Gospel Music Hall Of Fame, Mark Lowry spent more than 20 collective years as a member of the legendary Gaither Vocal Band, and often still serves as Bill Gaither's comedic sidekick on the Gaither stage. His distinctive ability to communicate with audiences large and small has opened doors throughout his career; leading to appearances on stages such as Carnegie Hall, the Kennedy Center, among others. Mark has been seen on tour with artists such as Michael W. Smith, Phillips, Craig & Dean, LordSong, and most recently, The Martins, Rambo McGuire, and Cana's Voice.
"I am looking forward to the start of a great relationship with the Harper Agency and I'm eager to explore how we can grow together," shares Mark Lowry. "The Harper Agency has a fantastic reputation within Christian music and I'm honored to be associated with such a first-class organization."
Ed Harper, President of the Harper Agency, comments, "In addition to being a great singer, songwriter, and a phenomenal communicator on stage; Mark is hilarious! He is certainly a great addition to our agency's roster and we are honored to represent such a great artist."
"Once the news came across my desk, I was overwhelmed with honor that Mark Lowry had agreed to have his booking responsibilities turned over to the Harper Agency," continues Jeff Harper, VP of the Harper Agency. "This is a huge responsibility, as Mark can pretty much pick and choose which agency or representative he would like for his booking needs. We at Harper feel extremely gracious to take this task off his hands. Mark is a household name in the music industry; not only in Southern Gospel, but in all genres of Christian music, comedy and most important, ministry. His declarations in the industry as an artist and songwriter speak for itself. You get it all with Mark at one of his shows: you'll laugh, sing along, and also feel his commitment to spread the Gospel to all ages."
The Harper Agency and Mark Lowry make this announcement just days before the release of his brand new comedy DVD & CD, Dogs Go To Heaven. The 2-hour video combines a taste of the Music & Madness tour that audiences across the country have enjoyed with some very special moments of 'interruption.' Dogs Go To Heaven will be available at Christian Retail and online at www.marklowry.com on Friday, May 20th.
To schedule Mark Lowry, contact The Harper Agency at 615.851.4500 or visit their website at www.harperagency.com.
For more information, contact Surge Artist Solutions at www.surgeartistsolutions.com.
##
Media Contact:
Dani Phillips
615.852.0437
dani.phillips@surgeartistsolutions.com