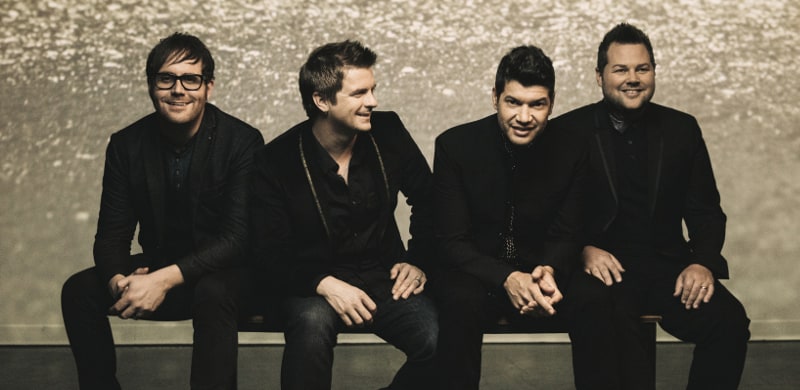 Costa Mesa, Calif. (December 22, 2016) –Dove-award winning band, The Afters will be hitting the road this February alongside Jason Gray & Jonny Diaz, bringing their 'Live on Forever' tour along the West Coast with 11 tour stops in California, Washington, Oregon, Nevada and Arizona from Feb. 6, 2017 – Feb. 23, 2017. Tickets are on sale now.
"We're planning some really special things for this one," says Josh Haven of The Afters. "It will be our best yet, and we're looking forward to having Jason Gray & Jonny Diaz out with us for these nights."
The tour will be in support of The Afters fifth studio album of the same name, Live on Forever, which debuted September 2016 after the album's title track hit top 5 on the Billboard Christian Hot AC charge and top 10 on the Billboard National Christian Audience chart. The album also features the band's single, "Battles", which made its way to the top of the charts this Fall. Since the album debut, The Afters have been on the road for the nationwide "Love Riot Tour" with GRAMMY-nominated band, Newsboys, and GRAMMY-nominated singer, Ryan Stevenson.
Jason Gray most recently spent much of 2016 touring across the U.S. with Josh Wilson & JJ Heller. His latest album Where The Light Gets In made it's way to Number 5 on Billboard's Top Christian Albums chart in July, and his hit song Sparrows saw heavy support on Christian radio stations across the nation.
"I am so excited to be coming to the West Coast with the Afters! We became friends many years ago when we toured together and I'm excited for a chance to get to do life and ministry with them again, they're some of my favorite people in the whole world," says Jason Gray. "Having been out with Jonny Diaz last year it's going to feel like a family reunion. I'm excited about the musical flow of the evening, as well. We are working hard to craft a fun show for everyone."
For tickets and additional information, visit www.transparentproductions.com
Live on Forever Tour
February 6: First Baptist Hanford – Hanford, CA
February 8: Southlake Church – West Linn, OR
February 9: Gateway Fellowship – Poulsbo, WA (*The Afters & Jason Gray only)
February 10: Mountain Church – Medford, OR
February 12: Porterville Church of the Nazarene – Porterville, CA
February 13: New Venture Christian Fellowship – Oceanside, CA
February 18: Valley Bible Fellowship – Las Vegas, NV (*The Afters & Jason Gray only)
February 19: The Grove – Chandler, AZ (*The Afters & Jason Gray only)
February 21: Immanuel Baptist Church – Highland, CA
February 23: Santa Cruz Bible Church – Santa Cruz, CA
About The Afters:
Texas-based, four-piece band The Afters were propelled into the national spotlight with their INO/Sony Music Label Group debut I Wish We All Could Win. The project spawned the swirling, melodic hit "Beautiful Love," earning the band an enthusiastic following when the song was selected as the theme track for MTV's "8th and Ocean." "Beautiful Love" was also the most downloaded track of 2006 on the iTunes ® Inspirational charts and garnered the band an mtvU award. The Afters' sophomore release Never Going Back To OK (INO/Columbia Records) debuted in the Top 50 on the Billboard Top 200, and proved to be a sensation on the silver screen with "Grey's Anatomy" (ABC), "Dr. Phil," "Army Wives" (Lifetime) and "Rachael Ray." The band's third record Light Up the Sky bolstered two No. 1 radio hits, as well as placements on "The Biggest Loser" (NBC) and "You Deserve It" (ABC). A slew of media including Rolling Stone, Seventeen.com, E! News Live, TV Guide, Premiere Radio and more also picked up on covering The Afters. The band released its fourth studio album, Life Is Beautiful in April 2013 via Fair Trade and their fifth studio album, Live On Forever, is available now.
About Jason Gray:
Jason Gray is an award-winning songwriter and considered one of the most prolific writers in the Christian music industry. His eagerly awaited new album, Where The Light Gets In, released June 2016 and the first single, "Sparrows," is already rapidly climbing up the charts. In 2014, Jason Gray delivered his strongest record at that time with Love Will Have The Final Word that entered the Top Ten on Billboard's Top Christian Albums Chart. The album also gave Gray his first No. 1 AC radio hit, "With Every Act Of Love." Gray's previous two projects, A Way To See In The Dark and Everything Sad Is Coming Untrue, delivered the talented singer/songwriter five Top Five singles in a row with "Nothing Is Wasted" becoming his first No. 1 single at radio. Gray has won two ASCAP Performance Awards for "More Like Falling In Love" (2011) and "Good To Be Alive" (2012). He remains active on the touring circuit by appearing on the high-profile The Bible: Son of God 2014 Tour and sharing the stage with such major artists as Michael W. Smith, Steven Curtis Chapman, Third Day and TobyMac among many others.
About Transparent Productions:
For nearly two decades, Transparent Productions has produced first-class Christian concerts and festivals across the U.S. with the largest names in Christian music – Casting Crowns, TobyMac, Chris Tomlin, MercyMe, Amy Grant, Crowder, Switchfoot, and dozens more. Transparent Productions has also developed and produced several iconic annual festivals with thousands of attendees each year including Fishfest, Spirit West Coast, GraceFest and GLORY SCV. With expertise encompassing single show dates to large-scale national tours, Transparent specializes in every aspect of live events from initial booking through day-of-show logistics. Working both independently and alongside some of the largest concert promoters in the nation such as AEG Live & LiveNation, the company seeks to bring Christian music to clubs, churches, schools, theaters and arenas across the nation.
##
Media Contact:
Jade Schuck
Transparent Productions | Marketing Director
jade@transparentproductions.com
www.transparentproductions.com