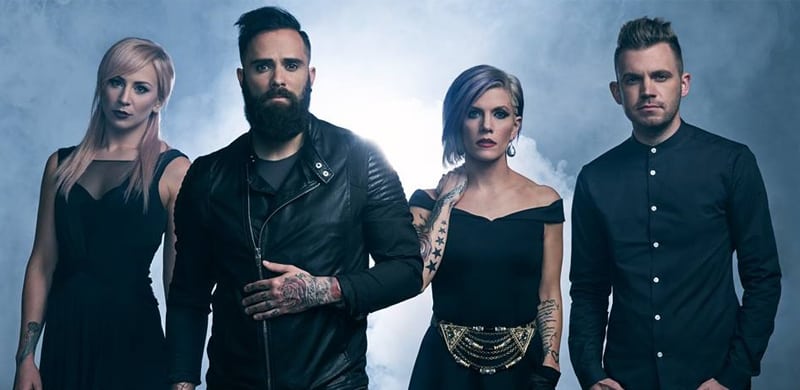 "Feel Invincible" heard on WWE, TBS' E-League, Rock Band 4 and Nickelodeon's Kids' Choice Sports Awards
GRAMMY Nominees' UNLEASHED out Aug. 5
Nashville, Tenn. (July 28, 2016) – GRAMMY® nominated Skillet's acclaimed record RISE (2013) received RIAA Gold Certification a week before the debut of their tenth studio album UNLEASHED, available August 5. Thanking fans across the globe, the band posted a video to social media expressing their appreciation, along with a surprise teaser for Panheads to be revealed July 29 at midnight.
"We are so very excited – RISE just got certified gold," John announced. "We want to say a big thank you to all the Panheads out there who have been supporting us for so long. It's been absolutely amazing. It's been a huge year so far."
Skillet's latest hit single "Feel Invincible" has become the theme song for WWE's Battleground and TBS's E-League, receiving feature placements on Rock Band 4 and Nickelodeon's Kids' Choice Sports Awards.
About Skillet
Skillet has cemented its place as one of the 21st century's most successful rock bands. Selling more than 11 million units worldwide, the Wisconsin quartet have received two GRAMMY® Award nominations and won a Billboard Music Award for the platinum-certified Awake. Their double-platinum single "Monster" is "the eighth most-streamed rock song of 2015" with a total of 57 million plays (and counting) on Spotify and would earn the distinction of becoming "the best-selling digital single in the history of Christian Music." 2013's Rise bowed at #4 on the Billboard Top 200 upon release and received resounding and eclectic acclaim from the likes of USA Today, New York Times, Revolver, Loudwire and more.
Get Connected With Skillet
skillet.com
Twitter
Facebook
Instagram
YouTube
##
Media Contact
Velvet Kelm & Courtney Hyder
velvet@themcollective.com
courtney@themcollective.com
615-591-7989
www.themcollective.com