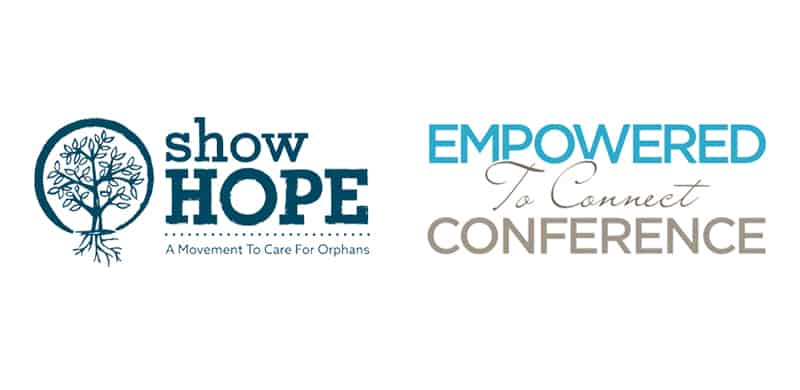 March 5, 2015 – Franklin, Tenn – Show Hope,™ a nonprofit organization that helps restore the hope of a family to orphans in distress founded in 2003 by multi-award winning Steven Curtis Chapman and his wife Mary Beth, a New York Times' best-selling author, will offer its next Empowered To Connect (ETC) Conference April 10 and 11. The upcoming conference will be held in San Antonio, Texas and simulcasted for the first time ever to churches and event centers across the U.S. and Canada. There are already 270 churches registered to broadcast the simulcast to date with more registering weekly. It is expected for approximately 10,000 people to participate in the conference.
At this two-day event led by Dr. Karyn Purvis, Director of the TCU Institute of Child Development, ETC Conference attendees will receive much-needed guidance and support. They will learn how to better connect with children from hard places in order to help their children heal and become all that God intended for them to be. The conference is ideal for adoptive and foster parents, those considering adoption or foster care and those who are serving and supporting others including social workers, agency professionals, ministry leaders, counselors, and therapists.
Show Hope is offering this special simulcast so those who are unable to attend the San Antonio conference will have the opportunity to receive this critical training. If your church is interested in participating in this special event, find out more and register for the Live Simulcast by visiting showhope.org/etc.
In addition to the April ETC Simulcast, Show Hope will host its final conference of 2015 in Minneapolis Sept. 18-19.
ABOUT ETC: Since Show Hope began this program two years ago, the ETC Conferences have impacted the lives of many adoptive children by equipping those who care for them. One participant recently shared with Show Hope about her experience at the southern California conference, stating "Words truly can not describe how much we were impacted. The conference not only unified our marriage and our parenting styles, but it gave us great compassion and understanding for our adopted daughter. We gained tools for our biological children as well and everyone we talked to at the conference said the same thing. I feel every parent, teacher, counselor and person that works with children should receive this training, not just adoptive or foster parents. We left feeling encouraged, inspired and empowered to lead our children. Show Hope has become a huge part of our adoption story and we are so grateful for your ongoing care, love and support."
ABOUT SHOW HOPE: Since its inception, Show Hope has helped provide forever homes through Adoption Aid grants for more than 4,500 orphans from 50+ countries, including the U.S. In addition, more than 1,600 orphans with special needs have received critically needed medical care through Show Hope's Special Care Centers, giving them a hope for a family and a future. Through numerous initiatives designed to engage individuals, students, families, and communities, Show Hope is mobilizing a movement to care for the world's children who need it most.
Show Hope is continuously developing a variety of programs to mobilize the church body to get involved and to help transform the life of an orphan. From their Student Initatives program (which includes the Red Bus Project for college students and The Movement for high schoolers), to their short-term trips for teens and adults, their Advocates program and the monthly sponsorship program, there are so many ways to get involved in the movement to care for orphans.
To find out more information, please visit ShowHope.org and on the links below.
##
Media Contact:
Stacie Vining, Merge PR
Stacie@MergePR.com
615.260.4679