NEWS: Pepsi Sponsors K-LOVE Fan Awards for Third Consecutive Year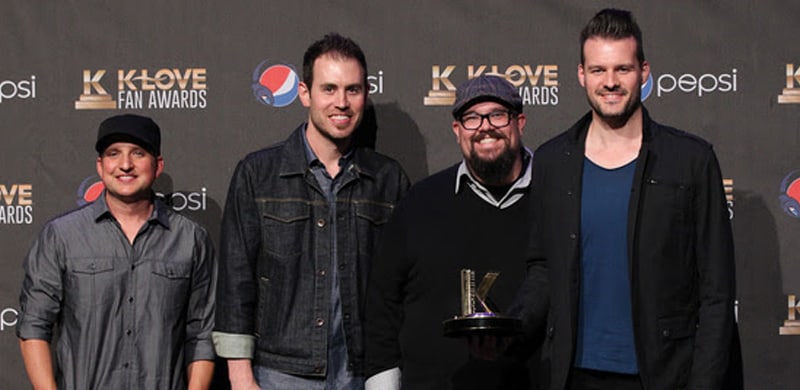 Fans Vote for "Artist to Appear on a Can" Category
K-LOVE Can Promotion to Hit Midwest This Month
(NASHVILLE, Tenn.) June 3, 2015—Pepsi returns for a third consecutive year as presenting sponsor of the 2015 K-LOVE Fan Awards. The awards were held Sunday night, May 31, at the Grand Ole Opry House in Nashville, where Pepsi reprised its "Artist to Appear on a Can" award. The winner will be part of a larger K-LOVE can promotion to kick off later this month.
In addition to highly visible branding, Pepsi boasted a significant presence at the 2015 awards with its own category, introduced at last year's event. Nominees for the 2015 "Artist to Appear on a Can" were Royal Tailor, OBB, Dan Bremnes, and Big Daddy Weave. The award was given to Big Daddy Weave, who will appear on three million 7UP* cans this fall.
Big Daddy Weave's Mike Weaver comments, "When we met Lee Crisp and heard his heart behind this, we realized this opportunity is a challenge to every Christian artist whose picture appears on these cans. When someone who is not familiar with our faith or our music sees this and searches to find out more about us, will they see people whose lives represent the love of God? It made me ask myself, is that what people will encounter when they encounter us? We hope and pray so. Thank you Lee, K-LOVE and everyone who voted for this challenge and honor."
Big Daddy Weave will join Switchfoot and Crowder (Dr. Pepper) as well as Natalie Grant and Tenth Avenue North (Diet Dr. Pepper) for a Pepsi MidAmerica Artist Can Series, launching June and July. These 12 million K-LOVE cans will be distributed throughout the Midwest, offering consumers the chance to win a VIP experience to next year's awards show.
"Pepsi MidAmerica is honored to partner with K-LOVE for our 3rd Annual Artist Can Series," says Pepsi MidAmerica President Lee Crisp. "After receiving a great response last year, I am thrilled to once again share these unique artists with our consumers. I look forward to the impact these cans and the message they carry will have in the market."
To view a complete list of this year's KLOVE Fan Awards winner, visit: klovefanawards.com.
About Pepsi MidAmerica:
Pepsi MidAmerica (PMA), located in Marion, Illinois, is proud to distribute quality beverages in portions of Illinois, Missouri, Arkansas, Kentucky and Tennessee. With continued innovation and dedicated staff, PMA has grown to be the largest individually owned Pepsi Bottler in the US. For more information about PMA, visit pepsimidamerica.com.
*brand subject to change
##
Media Contact:
mandy@savvymediasolutions.com
615.790.8034