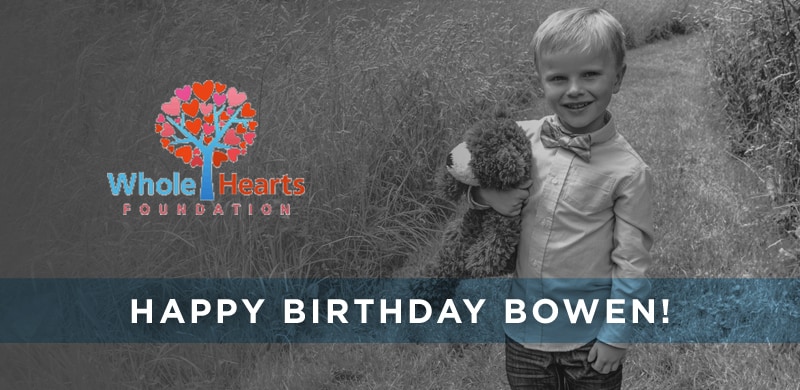 The Hammitt Family's Whole Hearts Foundation continues work in serving children battling life-threatening heart conditions
Nashville, Tenn. (Sept. 9, 2015) – Matt Hammitt, frontman for the GRAMMY® nominated band Sanctus Real, and his family are celebrating the fifth birthday of their son Bowen, a survivor of the critical and rare heart disease Hypoplastic Left Heart Syndrome (HLHS). This milestone in Bowen's life comes with great joy, as the Hammitts were told before his birth that thirty percent of children diagnosed with HLHS don't reach their fifth birthday. Bowen is headed to Walt Disney World to mark the big occasion, where the Hammitts' foundation, Whole Hearts, will be a sponsor of the Christian Music Broadcasters Convention. To view a message from the Hammitt family commemorating this very special day, click here.
"It seems like just yesterday when Bowen was born, when so many friends and strangers opened up their hearts to our son," shares Hammitt. "We are eternally grateful, not only for this milestone birthday, but also for every person and prayer that uplifted our family through a very difficult season. And now through Whole Hearts Foundation, we are blessed to pass on that same love and support to other families in need."
Hammitt and his wife share more about Bowen's journey in a recent and deeply personal episode of "The Lead Me Lifecast" (click here to listen). The podcast is a series of personal and spiritual journals, along with vulnerable conversations about topics related to faith, family, marriage and manhood, produced and hosted by Hammitt.
Upon diagnosis in 2010, hundreds of media outlets and radio stations nationwide joined the Hammitts in praying for their infant son's condition. With grateful hearts, the Hammitts launched the Whole Hearts Foundation to meet the practical, financial, emotional and spiritual needs of families with children suffering from congenital heart disease.
Stay Connected with Matt Hammitt and The Whole Hearts Foundation:
Matt Hammitt Website
Whole Hearts Foundation Website
Twitter
Instagram
Facebook
##
Media Contact:
Velvet Kelm & Courtney Hyder
the media collective
velvet@themcollective.com
courtney@themcollective.com
(615) 591-7989