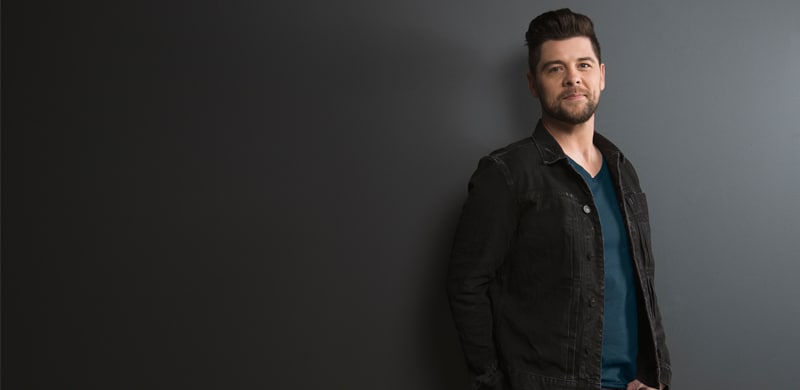 New Studio Album, Whatever the Road, Releasing September 18
NASHVILLE, TENN. – July 23, 2015 – GRAMMY® winner and 21-time Dove Award winning artist Jason Crabb was recently honored with a street name, "Jason Crabb Drive," in his hometown of Beaver Dam, KY. This past weekend during a hometown show at the new, state-of-the-art Beaver Dam Amphitheater, the city surprised and honored Crabb with the street sign for the road entering the Amphitheater.
"We were thrilled to have Jason come home for this concert," shared Mayor Paul Sandefur. "We were even more thrilled to show him how proud we are of him and his work by naming the street into Beaver Dam's new amphitheater after Jason, Jason Crabb Drive!" Sandefur, along with City Commissioners Charles Patton, Kevin Davis and Sandy Robinson, presented him with the honor.
Jason Crabb was performing in his hometown for the first time since he had laid his beloved grandmother to rest earlier this year so it was an emotional homecoming. "I can't even begin to tell you how shocked and humbled I am," shared Crabb with his fans on Facebook. "I wish my Grandma and Grandfather could be here. I'm so proud to be from Beaver Dam. I can't believe this!"
The Beaver Dam Amphitheater opened this past fall and has already hosted to artists such as Merle Haggard, Newsboys, Aaron Tippin and more. The venue will host upcoming shows from Third Day in August and the Blue Moon Bluegrass Music Festival in October.
This honor precedes Crabb's upcoming new studio album, Whatever The Road, which releases onSeptember 18th as his first album with new label home Reunion Records, a division of Provident Label Group/Sony Music. Working with producers Jason Ingram (Chris Tomlin, Tenth Avenue North, Kari Jobe), and Paul Mabury (Hillsong, Lauren Daigle, One Sonic Society), Crabb takes a bold new step forward, not just lyrically but stylistically, and has finely honed a collection of anthems for the church that have sophisticated pop sensibilities as well as deep, substantive lyrics.
"I've never wanted to be pigeon-holed," states Crabb of this new musical venture. "I just wanted to make music. I finally found that if you're part of the creative process of the song, then it becomes you. With this record, I feel like it's a little more of who I am than what I've been. It's where I want to be and it's wonderful."
Fans can now pre-order the upcoming release through July 31 and receive a three-song sampler along with three new songs. Click here to pre-order Whatever The Road.
Connect with Jason Crabb:
Website
Facebook
Twitter
Instagram
Youtube
##
About Jason Crabb:
In his career, Kentucky-born Jason Crabb has won a GRAMMY (in 2010 for Best Southern/Country/Bluegrass Gospel Album, Jason Crabb) and 21 Dove Awards, both as a solo artist as well as with the Crabb Family. In 2012, the Gospel Music Association's Dove Awards crowned Crabb as both Artist and Male Vocalist of the Year.
Since his first solo release in 2009, Jason Crabb has performed at many of the world's most prestigious stages such as Carnegie Hall, the Grand Ole Opry, the Brooklyn Tabernacle and Billy Graham's final crusade in NYC. He has also shared the stage with artists such as Wynonna, Brad Paisley, Blake Shelton, Sandi Patty, the Oak Ridge Boys and more. He has appeared on Donald Trump's "Celebrity Apprentice" (NBC) and alongside Duck Dynasty's Willie Robertson.
Jason Crabb has been covered in such outlets as Associated Press, Huffington Post, Billboard, USA Today online, Fox News, Entertainment Tonight, Country Weekly, among others, and was named one of Nashville's Most Beautiful People by Nashville Lifestyles Magazine. Jason Crabb is also a host at TBN (Trinity Broadcast Network).
Media Contact:
Merge PR
P.O. Box 1271 | Franklin, TN 37065