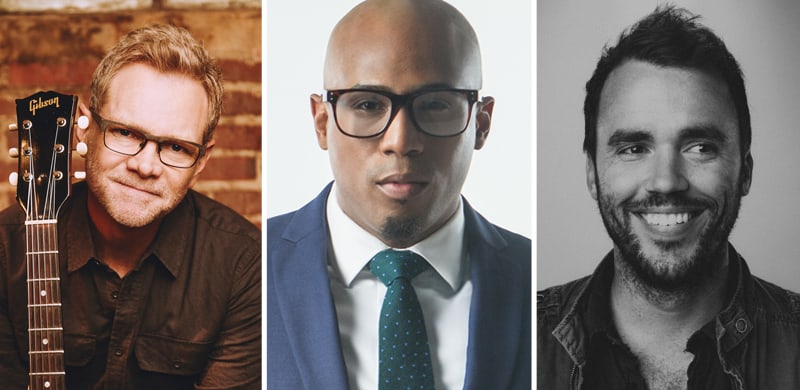 Pictured L-R: Steven Curtis Chapman, Anthony Brown, Jeremy Cowart
STEVEN CURTIS CHAPMAN, JORDAN FELIZ. ANTHONY BROWN, DEREK MINOR and WILLIAM MCDOWELL Confirmed to Mentor the Next Generation of Christian Artists and Songwriters at Gospel Music Association's IMMERSE 2016
IMMERSE Launches Film Track to Inspire and Empower Up and Coming Filmmakers and Actors
IMMERSE will be held June 13-15 at Lipscomb University in Nashville, TN, Offering Unprecedented Training for Developing Artists, Songwriters, Filmmakers and Worship Leaders by Industry Professionals.
Nashville, TN (May 26, 2016) – The Gospel Music Association's IMMERSE has become known as a one-of-a-kind experience where the Christian music community gathers to educate and inspire fresh talent while simultaneously celebrating excellence in the market. IMMERSE 2016 promises to be the most dynamic event to date, boasting an incredible line-up of artists, songwriters and music professionals who are committed to sharing real-world advice and guidance to the industry's next generation. The eighth annual IMMERSE Conference is set for June 13-15, 2016 at Lipscomb University in Nashville, TN.
A complete schedule has just been posted, including the latest addition of confirmed artists such as STEVEN CURTIS CHAPMAN, JORDAN FELIZ, ANTHONY BROWN, WILLIAM MCDOWELL and DEREK MINOR. Artists previously announced include LAUREN DAIGLE, VASHAWN MITCHELL and CHRIS MCCLARNEY.
Mentors for the business track include industry executives David Smallbone (Manager, for KING & COUNTRY), Laurie Anderson (Manager, TobyMac, Mandisa, Capitol Kings), Rod Riley (Word Entertainment), Phil Thornton (Gen. Mgr. for eOne Entertainment), Mike Snider (William Morris Endeavor), EJ Gaines (Manager, William McDowell, Jonathan McReynolds), producer and songwriter Daniel Weatherspoon and Wally from The Wally Show (WAY FM).
New confirmations for mentors in the songwriter track include Ian Eskelin, Benji Cowart, Dustin Smith, Tony Wood, Kenna West and Joseph Habedank.
Featured highlights will include Celebrity Photographer, Artist and Humanitarian JEREMY COWART as a keynote speaker to kick off the event. IMMERSE is also honored to welcome Francesca Battistelli's parents, Mike and Kate Battistelli, who will teach a class on nurturing creativity in your home. Next week, the Gospel Music Association will be announcing the participants in the BMI Songwriter Showcase, an annual favorite of attendees and industry alike.
Brand new for 2016 will be the introduction of a faith-based film track, where aspiring filmmakers, screenwriters and actors can attend targeted seminars on this growing part of the industry. Guest speakers and mentors include Torry Martin (actor, screenwriter), Alan Powell (actor), Beau Davidson (actor) and Dave DeBoard (screenwriter, producer).
IMMERSE gives hands-on training and mentoring to inspire creativity, foster community and advance education. Programming for this 2016 event will include classes and seminars focused on music business, worship leading, songwriting, artist development and filmmaking taught by industry leaders. The successful reVIEWyou program that combines mentoring with a songwriting and performance competition will also return to help shape and scout emerging talent.
IMMERSE 2016 will be held June 13-15 at Lipscomb University. Tickets are now available at www.ExperienceIMMERSE.com
About the GOSPEL MUSIC ASSOCIATION:
Founded in 1964, the Gospel Music Association serves as the face and voice for the Gospel/Christian music community and is dedicated to exposing, promoting and celebrating the Gospel through music of all styles including Pop, Rock, Praise & Worship, Urban Gospel, R&B, Hip Hop, Southern Gospel, Bluegrass, Country and more. The GMA community consists of agents, artists, church leaders, managers, promoters, radio personnel, record company executives, retailers, songwriters and other industry visionaries. The GMA produces the GMA Dove Awards and IMMERSE. For more on supporting the GMA or becoming a member, please visit www.gospelmusic.org.
##
Media Contact:
For more information on IMMERSE 2016, or to schedule an interview with Jackie Patillo, please contact
Lori Lenz-Heiselman
714-553-5181
Lori@BiscuitMediaGroup.com