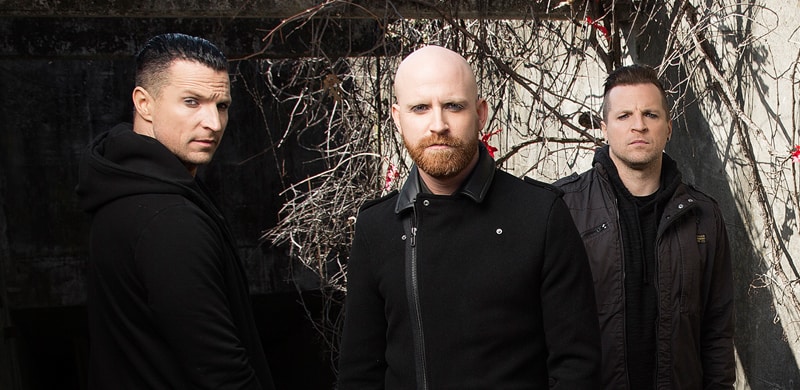 Tour Update: RED Finished Headline Tour "REDvolution;" Announced for Winter Jam 2016
NASHVILLE, TENN. (November 03, 2015) GRAMMY® nominated rock band RED (Essential Records) received a RIAA Gold Certification for their single "Breathe Into Me" from their album, End of Silence. This honor comes on the heels of their sixth GMA Dove Award win for "Rock Album of the Year" for their recent release, Of Beauty and Rage (2015).
Known for their intense live show, RED concluded the month-long run of their headline branded "REDvolution" tour on last week in Nashville at Rocketown with special guests Capital Kings, Tedashii and Wolves At The Gate. Also announced recently, RED will be on the 2016 spring Winter Jam tour hitting more than 45 arenas and stadiums across the country. For a complete list of the remaining 2015 RED tour dates along with their upcoming Winter Jam shows, see below.
Over the past decade, RED has received two GRAMMY nominations, six GMA Dove Awards, two Top 10 Active Rock singles, three Top 10 Mainstream Rock singles and 19 consecutive No. 1 hits at Christian radio. The band has sold more than one million albums collectively with Of Beauty and Rage, Release The Panic, Until We Have Faces, Innocence & Instinct and End of Silence. RED is Michael Barnes (vocals) and twin brothers Anthony Armstrong (guitar) and Randy Armstrong (bass). The band also boasts more than one million Facebook fans.
Connect with RED:
Twitter
Facebook
Instagram
YouTube
RED Tour Dates:
12/27 – Branson, MO (Winter Xtreme Conference)
12/28 – Gatlinburg, TN (Winter Xtreme Conference)
12/29 – Gatlinburg, TN (Winter Xtreme Conference)
12/31 – Galtinburg, TN (Winter Xtreme Conference)
1/02 – Charleston, WV (Winter Jam Tour Spectacular)
1/03 – Grand Rapids, MI (Winter Jam Tour Spectacular)
1/07 – Reading, PA (Winter Jam Tour Spectacular)
1/08 – University Park, PA (Winter Jam Tour Spectacular)
1/09 – Columbus, OH (Winter Jam Tour Spectacular)
1/10 – Chattanooga, TN (Winter Jam Tour Spectacular)
1/15 – Jacksonville, FL (Winter Jam Tour Spectacular)
1/16 – Tampa, FL (Winter Jam Tour Spectacular)
1/17 – Sunrise, FL (Winter Jam Tour Spectacular)
1/21 – Council Bluffs, IA (Winter Jam Tour Spectacular)
1/22 – Des Moines, IA (Winter Jam Tour Spectacular)
1/23 – St. Louis, MO (Winter Jam Tour Spectacular)
1/24 – Kansas City, MO (Winter Jam Tour Spectacular)
1/28 – Evansville, IN (Winter Jam Tour Spectacular)
1/29 – Chicago, IL (Winter Jam Tour Spectacular)
1/30 – Pittsburgh, PA (Winter Jam Tour Spectacular)
1/31 – Auburn Hills, MI (Winter Jam Tour Spectacular)
2/04 – Mobile, AL (Winter Jam Tour Spectacular)
2/05 – Nashville, TN (Winter Jam Tour Spectacular)
2/06 – Atlanta, GA (Winter Jam Tour Spectacular)
2/11 – Augusta, GA (Winter Jam Tour Spectacular)
2/12 – Greenville, SC (Winter Jam Tour Spectacular)
2/13 – Knoxville, TN (Winter Jam Tour Spectacular)
2/14 – Fairfax, VA (Winter Jam Tour Spectacular)
2/18 – Fort Wayne, IN (Winter Jam Tour Spectacular)
2/19 – Cincinnati, OH (Winter Jam Tour Spectacular)
2/20 – Lexington, KY (Winter Jam Tour Spectacular)
2/21 – Cleveland, OH (Winter Jam Tour Spectacular)
2/26 – Columbia, SC (Winter Jam Tour Spectacular)
2/27 – Greensboro, NC (Winter Jam Tour Spectacular)
2/28 – Norfolk, VA (Winter Jam Tour Spectacular)
3/04 – Houston, TX (Winter Jam Tour Spectacular)
3/05 – Memphis, TN (Winter Jam Tour Spectacular)
3/06 – Bossier City, LA (Winter Jam Tour Spectacular)
3/10 – Springfield, MO (Winter Jam Tour Spectacular)
3/11 – Wichita, KS (Winter Jam Tour Spectacular)
3/12 – Oklahoma City, OK (Winter Jam Tour Spectacular)
3/13 – Tulsa, OK (Winter Jam Tour Spectacular)
3/18 – Indianapolis, IN (Winter Jam Tour Spectacular)
3/19 – Birmingham, AL (Winter Jam Tour Spectacular)
3/20 – Peoria, IL (Winter Jam Tour Spectacular)
3/24 – Roanoke, VA (Winter Jam Tour Spectacular)
3/25 – Raleigh, NC (Winter Jam Tour Spectacular)
3/26 – Charlotte, NC (Winter Jam Tour Spectacular)
3/31 – Tupelo, MS (Winter Jam Tour Spectacular)
4/01 – New Orleans, LA (Winter Jam Tour Spectacular)
4/02 – Little Rock, AR (Winter Jam Tour Spectacular)
4/03 – Louisville, KY (Winter Jam Tour Spectacular)
##
Media Contact:
Merge PR
Lori Mahon
Lori@MergePR.com
615.579.1266