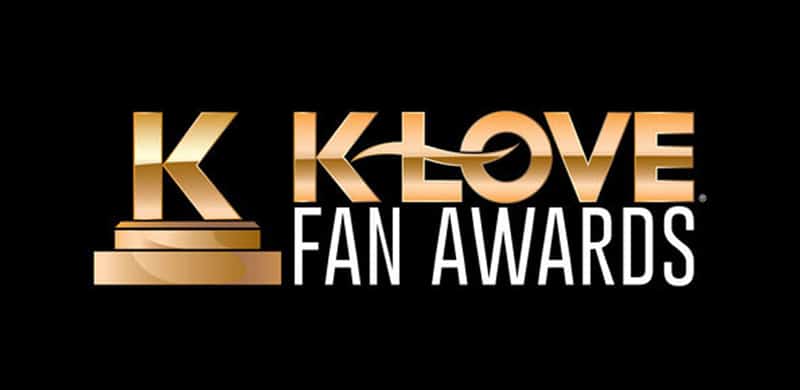 Early fan voting underway at KLOVEFanAwards.com to determine 2016 nominees
Nashville, Tenn. (January 20, 2016) – Elisabeth Hasselbeck and Matthew West are set to host the 2016 K-LOVE Fan Awards live from the Grand Ole Opry House on June 5, 2016. K-LOVE, the leading Christian music radio network with a weekly listenership of over 14 million people, will once again bring the only fan-voted experience in the industry to Nashville, Tenn. June 3 – 5, 2016.
Fans are already voting on KLOVEFanAwards.com to select their favorite artists played on the nationwide network. Their votes will formulate the official nominees in each of the seven categories, including Artist of the Year, Male Artist of the Year, Female Artist of the Year and more. To place your vote, click here.
"What a thrill and blessing it is to co-host the 2016 K-LOVE Fan Awards with the brilliant Matthew West," shares Hasselbeck. "To all my K-LOVE friends: get ready to praise and party with us because #GodIsGood!" The New York Times bestselling author and long-time Christian music fan originally announced her return as host live on FOX & Friends during her final day on the widely popular morning show.
"I'm so excited to be hosting this year's awards along with Elisabeth," explains West. "This event has become such a wonderful celebration of how God uses Christian music to impact culture through K-LOVE's airwaves every single day, and I'm honored to be part of what is sure to be an unforgettable night. In preparation for the big day, I'll be watching countless hours of the great hosts in history like Dick Clark and Ryan Seacrest. Don't worry, I'll be ready!" A four-time GRAMMY® nominee, West released Live Forever last April.

Offering a weekend of unparalleled access and experiences for music fans, packages are now available for purchase. For the latest information on the 2016 K-LOVE Fan Awards, stay tuned to KLOVEFanAwards.com.
ABOUT ELISABETH HASSELBECK
Elisabeth Hasselbeck most recently served as co-host of FOX News Channel's (FNC) FOX & Friends. Prior to FNC, Hasselbeck was a co-host on ABC's The View for 10 years. During her time on the daytime talk show, she and her co-hosts were selected by Time Magazine as one of the "100 Most Influential People in the World," and in July 2009, Forbes ranked The View as No. 11 on the list of "30 of the Most Influential Women." Until 2013, she had also been a contributor to ABC's Good Morning America since October 2010. Hasselbeck has interviewed Presidents George W. Bush, Bill Clinton and Barack Obama and was also a keynote speaker at the Republican National Convention in both 2004 and 2008. Additionally, as a woman with Celiac Disease, she works closely with the Celiac Disease Center at Columbia University to raise awareness about the autoimmune disease and has written two New York Times best sellers, "The G-Free Diet" and the cookbook, "Deliciously G-Free."
ABOUT MATTHEW WEST
Matthew West is a multiple ASCAP Christian Music Songwriter/Artist of the Year winner, a four-time GRAMMY® nominee, and was awarded his first American Music Award (2013) and a Billboard Music Award (2014). Matthew West's discography includes acclaimed releases: Happy (2003), History (2005), Something to Say (2008), The Story of Your Life (2010) and GRAMMY®-nominated Into The Light (2012) and most recently Live Forever (2015). West was nominated for a Primetime Emmy® Award for Original Music & Lyrics for "The Heart of Christmas" from the film of the same name. His songwriting credits include cuts by Rascal Flatts, Scotty McCreery, Casting Crowns, Amy Grant, Michael W. Smith, Diamond Rio and more. He wrapped 2013 with his own headlining in the fall of 2013 and "The Story Tour" in December. During 2014, West toured with the "Hits Deep Tour" as well as his sell-out "Hello My Name Is…" acoustic tour. He is currently co-headlining 2016's Winter Jam.
ABOUT THE K-LOVE FAN AWARDS
The K-LOVE Fan Awards mission is to create a fan experience that celebrates and promotes artists, athletes, authors and entertainers who, with excellence, engage and impact popular culture for Jesus Christ. This year's show will include co-hosts Elisabeth Hasselbeck and Matthew West. Previous hosts for the event include Phil & Kay Robertson and Jase & Missy Robertson from A&E TV's popular show "Duck Dynasty," Candace Cameron Bure and Kirk Cameron. For more information visit www.KLOVEFanAwards.com. The K-LOVE Fan Awards is a John Sanders LLC/World Hope Event.
ABOUT K-LOVE
K-LOVE plays positive, encouraging contemporary Christian music with a message designed to draw people toward an authentic relationship with God while living out real life in the real world. The radio network has 446 signals in 47 states with an estimated weekly audience of over 14 million. Now with their Fan Awards, their mission is to create a unique and fun fan experience that celebrates and promotes artists, athletes, authors and entertainers, who, with excellence, engage and impact popular culture for Jesus Christ.
Get Connected with the 2016 K-LOVE Fan Awards:
Website
#klovefanawards
Media Credentials
Twitter
Facebook
Instagram
YouTube
##
Media Contact:
Velvet Kelm, Courtney Hyder, Kirsten Grenier & Brooke Huppenthal
the media collective
velvet@themcollective.com
courtney@themcollective.com
kirsten@themcollective.com
brooke@themcollective.com
(615) 591-7989
www.themcollective.com