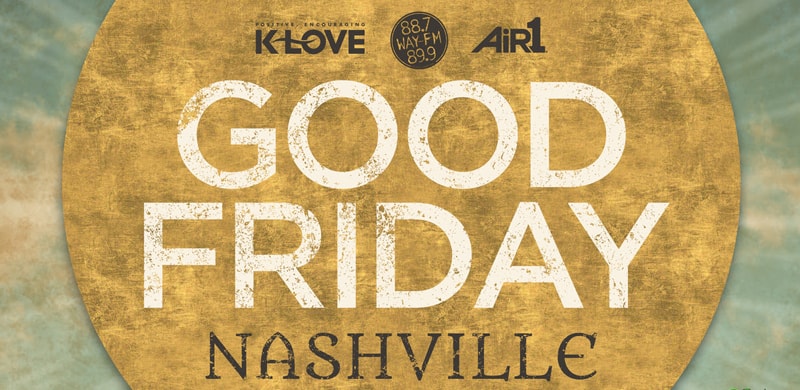 Joined by Max Lucado, Big Daddy Weave, Zach Williams, Mosaic MSC and many more, believers unite to celebrate significance of the day
Event to give back to local Nashville community, tickets on sale Wednesday, January 18
Nashville, Tenn. (January 11, 2017) — In honor of Good Friday, GRAMMY® winner Chris Tomlin aims to unite the church in remembrance and celebration of the meaningful day with Good Friday Nashville, to be held at Bridgestone Arena Friday, April 14. Believers will unite and turn their eyes to the cross as Tomlin, Big Daddy Weave, Zach Williams, Mosaic MSC and many more lead in a time of worship and best-selling author Max Lucado shares a timely message.
"I'm so excited for the Church to come together on Good Friday and remember the incredible gift we've been given because of Jesus' sacrifice on the cross," Tomlin said. "It's my prayer that we never lose sight of Calvary. It's the reason we have hope – the reason we sing."
The event will also focus on giving back to the community, rallying behind impactful efforts in the city of Nashville, where Tomlin and his family reside.
Good Friday Nashville falls in the midst of Tomlin's Worship Night In America tour, featuring Big Daddy Weave, Phil Wickham, Zach Williams, Mosaic MSC and Jason Barton, making 23 stops in arenas across the country this spring.
Good Friday Nashville is exclusively produced by Awakening Events, presented by K-LOVE, WAY-FM and Air1.
Tickets for Good Friday Nashville go on sale Wednesday, January 18 at 10:00am central time. For additional information, visit christomlin.com.
About Chris Tomlin
Likely "the most often sung artist anywhere" according to TIME Magazine, Chris Tomlin is among the most influential artists in Christian music. Selling over 7 million albums and 8.9 million digital tracks, Tomlin has 15 No. 1 radio singles, a GRAMMY® Award, three Billboard Music Awards, two platinum and five gold albums to his name. Tomlin's latest album Never Lose Sight and debut children's book Good Good Father are available now.
Connect With Chris Tomlin
Website: christomlin.com
Facebook: facebook.com/christomlin
Twitter: twitter.com/christomlin
Instagram: instagram.com/christomlin
YouTube: youtube.com/christomlinvevo
About Awakening Events:
Awakening Events produces over 175 Contemporary Christian concerts and events nationwide in America and is consistently ranked in Pollstar's "Worldwide – Top 50 Promoter" list each year, reaching as high as 14th in North America, and top 20 in the world. For more info visit: www.AwakeningEvents.com
##
Media Contact
Kirsten Grenier & Velvet Kelm
the media collective
kirsten@themcollective.com
velvet@themcollective.com
615-591-7989
www.themcollective.com