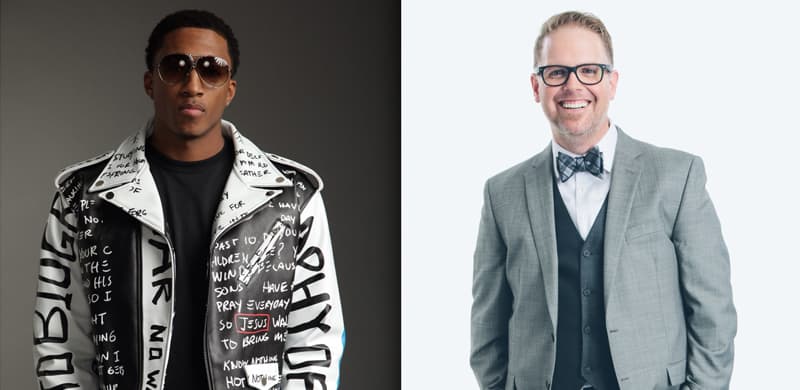 BART MILLARD OF MERCYME AND LECRAE TO HOST 45th ANNUAL GMA DOVE AWARDS
NOMINEES NATALIE GRANT, HEZEKIAH WALKER, MATTHEW WEST AND ERICA CAMPBELL SET TO PERFORM
SCOTT HAMILTON, CAPITAL KINGS, KAREN KINGSBURY AND BILL GAITHER ADDED AS PRESENTERS
The 45th Annual GMA Dove Awards to air on Trinity Broadcasting Network (TBN) #doveawards
NASHVILLE, Tenn. (Aug. 22, 2014) – The Gospel Music Association (GMA) announces multi-Dove Award winning powerhouses Bart Millard of MercyMe and Lecrae as co-hosts for the 45th Annual GMA Dove Awards (www.doveawards.com). The Dove Awards will take place on Tuesday, Oct. 7 at Allen Arena on the campus of Lipscomb University in Nashville, TN and will air on the Trinity Broadcasting Network (TBN). For Dove updates and breaking news, please visit the Gospel Music Association's social networks on Twitter and Facebook: www.twitter.com/gmadoveawards or www.facebook.com/doveawards.
"I can't wait to be a part of what I believe will be a historic evening," said rap and hip hop recording artist Lecrae. "Co-hosting with a great friend and talented artist makes it even better. Be careful though, who knows what will happen when Bart and I get together."
Says Millard, "I'm so excited to be part of this year's Dove Awards. The Doves are unique because they bring all styles of Gospel music together. Lecrae and I are just a small example of how different and yet unified this community is in sharing a message of love and hope through music." He jokes, "To prove how unified we are, I will be freestylin' my fresh rhymes while Lecrae sings the chorus to 'I Can Only Imagine" over and over!"
Performers and current nominees will include Natalie Grant, Hezekiah Walker, Matthew West and Erica Campbell. In addition, Capital Kings, Olympic Gold Medalist Scott Hamilton, author Karen Kingsbury and Bill Gaither are confirmed as presenters.
Dove nominees, Jonathan McReynolds and Meredith Andrews have been confirmed to host the GMA Dove Awards Preshow which will stream live on www.hearitfirst.com/live on Oct 7 at 2:00pm CT.
The 45th Annual GMA Dove Awards will take place on Tuesday, October 7, 2014 at Allen Arena in Nashville, Tennessee at 6:30pm CT. The show will air exclusively on the Trinity Broadcasting Network (TBN), America's most watched faith channel. Tickets are available now at www.doveawards.com. For a complete list of nominees visit www.doveawards.com/nominees.
###
About GMA: Founded in 1964, the Gospel Music Association serves as the face and voice for the Gospel/Christian music community and is dedicated to exposing, promoting and celebrating the Gospel through music of all styles including Pop, Rock, Praise & Worship, Urban Gospel, R&B, Hip Hop, Southern Gospel, Bluegrass, Country and more. The GMA community includes agents, artists, church leaders, managers, promoters, radio personnel, record company executives, retailers, songwriters and other industry visionaries. The GMA produces the GMA Dove Awards, GMA Honors and IMMERSE. For more on supporting the GMA or becoming a member, please visit www.gospelmusic.org.
About the Trinity Broadcasting Family of Networks: With 28 networks and growing worldwide, the Trinity Broadcasting Family of Networks is the world's largest faith-and-family television group, airing a broad range of church and ministry programming, Christian music, family friendly movies, children's programming, and shows for teens and young adults 24 hours a day to every inhabited continent via 87 satellites and 20,000 television and cable affiliates. In addition, TBN's most popular global networks are available on computers, smart phones, and other mobile devices, and over 24,000 hours of entertaining and inspiring On-Demand programming is accessible via TBN's innovative online network, iTBN.org. To find out more about the Trinity Broadcasting Family of Networks, log on to www.tbn.org.
Suggested tweet: #DoveAwards tap @lecrae & @BartMillard to host the 45th @gmadoveawards on October 7th.
Dove Awards Social Media Platforms:
Website – www.doveawards.com
Facebook – www.facebook.com/DoveAwards
Twitter – www.twitter.com/GMADoveAwards #DoveAwards
YouTube – www.youtube.com/GMADoveAwards
Hearitfirst – www.hearitfirst.com/artists/dove-awards
Pinterest – www.pinterest.com/doveawards
MEDIA CONTACTS:
DOVE AWARDS:
Jules Wortman
Wortman Works Media & Marketing
615.989.1519 or 615.260.9985
jwortman@wortmanworks.com
Lacey Printz
Wortman Works Media & Marketing
253.709.6034
lprintz@wortmanworks.com