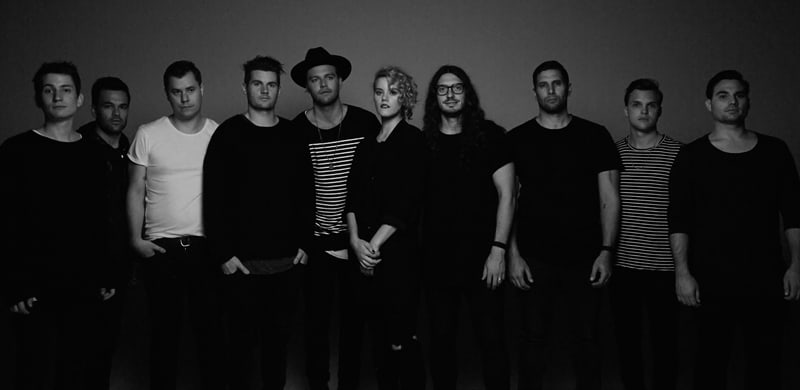 Band Returns to the U.S. in Revolutionary Surprise Tour Dictated by Instagram Video Petitions Including Impromptu Shows at a Wedding, Folsom Prison and The Roxy Among Others
LOS ANGELES (August 1, 2017) — Hillsong UNITED recently embarked on a surprise U.S. pop-up tour in celebration of their recent chart-topping album release, WONDER. Fittingly named "WONDER In The Wild Tour," the multi-platinum-selling powerhouse is engaging fans to decide where they will travel and perform by submitting one-minute creative Instagram video entries using the hashtag #wonderinthewild, petitioning the group to visit their hometowns.
On tour now through August 6, Hillsong UNITED is slated to host events at summer camps, youth groups, churches, weddings and private homes. They plan on keeping the circuit open to allow some last minute decisions and encourage fans everywhere to continue sending in their suggestions.
"We wanted to do something different at launch of our new album," says Hillsong UNITED's JD Douglass. "Rather than touring in arenas and venues, we thought 'let's go where the people want us to.' The response we've received is overwhelming, as more and more people continue to jump on board daily."
Dictated completely by fans, Hillsong UNITED kicked off its "WONDER In The Wild Tour" by performing at the wedding of Chad and Jamie Beane. After the couple posted several videos about how UNITED's music is woven into their relationship and journey together (the couple first met at a UNITED show!), the band decided with less than 24 hours to jump on a plane and crash the wedding. Hillsong UNITED also made pop-up appearances at packed out venues like The Roxy in Los Angeles, and even Folsom Prison to visit an inmate who petitioned the group. The band will be releasing a video of the intimate acoustic session on their social channels in the coming weeks.
Undisputedly one of the genre's most influential artists in the history of contemporary Christian music, chart leading Hillsong UNITED's sixth studio album, WONDER debuted at No. 1 on the iTunes Christian genre, in the Top 5 on iTunes over all genres and received playlist placements to over 4M followers on Spotify. Every song from the project debuted on the Top 100 On-Demand Audio chart, with 8 of its 12 songs charting in the Top 20, making it a first time ever achievement in the Christian genre. Hillsong UNITED's custom lyric videos for "WONDER" also resonated with fans, garnering an unprecedented 1.1 million YouTube views in just one week since going live.
As an additional bonus for fans, Hillsong UNITED recently issued custom lyric videos for every track on the album with never-before-seen footage of studio recordings and photoshoots.
For more information, please visit:
Website: https://hillsong.com/united/
Facebook: https://www.facebook.com/hillsongchurch
Instagram: https://www.instagram.com/hillsong/
Twitter: https://twitter.com/hillsong
About Hillsong UNITED
Hillsong UNITED is a multi-award-winning, platinum-selling artist whose chart successes (repeatedly no. 1 on Billboard's Christian charts and up to #5 on Billboard 200) are only bested by the millions of lives they've impacted across the globe. Reporting over 50 million people singing from a catalogue of UNITED songs every Sunday, the modest band born from a youth ministry out of Hillsong Church in Australia, touts a reach of over 9 million across all major social network platforms to date. Comprised of an evolving, eclectic mix of musicians and songwriters, the band is led by Joel Houston and Taya Smith, names that have become synonymous with Christian radio, dominating airwaves with every new release. Their last four studio albums have each topped the USA Christian chart, with Zion and EMPIRES charting no. 1 (Zion recently also went Gold in the US); and "Oceans," written by Houston and band member Matt Crocker recently went double platinum in the States, counting 200+ million streams and reigning on top of the Christian songs chart for a record 54 weeks. In studio, on tour or at home, Hillsong UNITED is committed to writing songs that speak truth, create a unique sound and connects people everywhere with God, evident by the success they've seen globally. With over 42 countries and six continents and counting, Hillsong UNITED continues to sell out arenas and stadiums around the world, including sold-out nights at the Forum, STAPLES Center and The Hollywood Bowl in Los Angeles, the Bridgestone Arena, American Airlines Arena, and the Hammerstein Ballroom in NYC to scratch the surface. Hillsong UNITED profoundly functions from the deep understanding that everything they do is an expression of a really extraordinary God doing what only He can do, through really ordinary people.
##