Multi-Platinum Selling Artist Chris Tomlin Adds Second Date at World-Renowned Red Rocks Amphitheater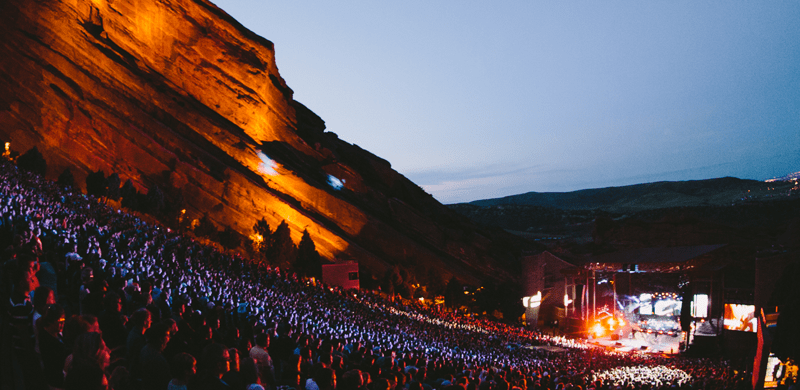 Photo credit: Mary Caroline Mann
Nashville, Tenn. (July 25, 2017) – After an overwhelming response to the announcement of "Chris Tomlin: Worship at Red Rocks," multi-platinum selling artist Chris Tomlin has added a second night as a special "Chris Tomin & Friends" event on September 5th. With tickets for "Chris Tomlin: Worship at Red Rocks" in high demand, the show, taking place on September 6th, is nearly sold out. Reserved seats for "Chris Tomlin & Friends" on September 5th will go on sale this Friday, July 28th at 10am MT.
"Two nights at Red Rocks. Can you believe this? This is the best!" exclaimed Tomlin.
"Being able to play back to back nights at one of the most beautiful venues in the world will be unforgettable. So wherever you're from, join us. Get your tickets and come to Denver because it's going to be a special night."
While "Chris Tomlin: Worship at Red Rocks" will provide the audience a once in a lifetime worship experience, "Chris Tomlin & Friends" will feature Ellie Holcomb opening the evening, followed by Tomlin who will bring out friends throughout the night. Some of the sit-in guests will include Steven Curtis Chapman, Mac Powell from Third Day, Brandon Heath, and Pat Barrett for a night of celebration and worship under the stars.
"Chris Tomlin: Worship At Red Rocks" and "Chris Tomlin & Friends" will follow Tomlin's hugely successful Worship Night In America Tour. Featuring artists like Big Daddy Weave, Phil Wickham, and Zach Williams, the tour made 23 stops in arenas across the country this past spring, including Nashville, where Tomlin made history as the largest ticketed Christian concert in Bridgestone Arena to date.
Both "Chris Tomlin: Worship at Red Rocks" and "Chris Tomlin & Friends" will be exclusively produced by Awakening Events.
About Chris Tomlin:
Likely "the most often sung artist anywhere" according to TIME Magazine, Chris Tomlin is among the most influential artists in Christian music. Selling over 7.5 million albums and 10.7 million digital tracks, Tomlin has 16 No. 1 radio singles, a GRAMMY® Award, three Billboard Music Awards, two platinum and five gold albums to his name. Honored last fall as the fourth recipient of the SoundExchange Digital Radio Award, recognizing more than 1 billion digital radio plays, Tomlin's latest album Never Lose Sight and debut children's book Good Good Father are available now.
About Awakening Events:
Awakening Events produces over 175 Contemporary Christian concerts and events nationwide in America and is consistently ranked in Pollstar's "Worldwide – Top 50 Promoter" list each year, reaching as high as 9th in North America, and top 20 in the world. For more info visit: www.AwakeningEvents.com.
Connect With Chris Tomlin:
Website: christomlin.com
Facebook: facebook.com/christomlin
Twitter: twitter.com/christomlin
Instagram: instagram.com/christomlin
YouTube: youtube.com/christomlinvevo
##