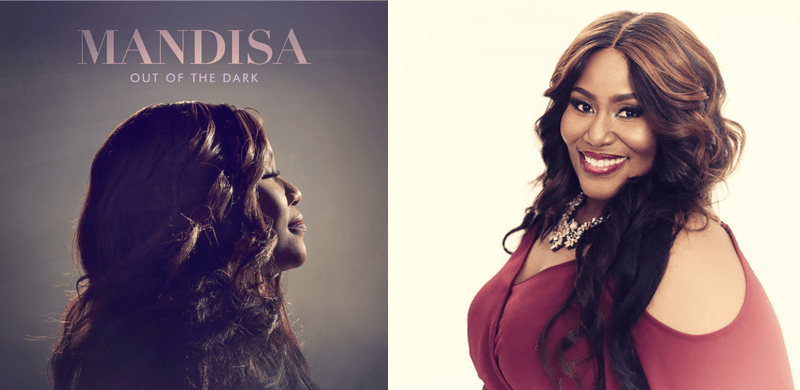 Out Of The Dark Claims No. 1 Spot on Billboard's Christian & Gospel Chart and Top 20 on Billboard Album's Chart
Nashville, Tenn. (June 1, 2017) – Following her GRAMMY® winning album Overcomer (2013), Mandisa's fifth studio album Out Of The Dark has returned Mandisa to the top of charts, earning the No. 1 spot on Billboard's Christian & Gospel Chart and Top 20 on Billboard Albums Chart. Out Of The Dark has found Mandisa visiting the west coast this week, making stops at Entertainment Tonight, TBN's PRAISE and Hallmark Channel's Home & Family where her interview performance will air on both June 1 and June 2 at 10/9 a.m. CST on the Hallmark Channel.
With her hit "Overcomer" recently RIAA Gold Certified, the GRAMMY® winner's latest radio single "Unfinished" is top 10 on the AC Indicator, AC Monitored and National Christian Airplay charts following a full radio promo tour around the street of her album, and continues to climb the charts. Mandisa performed the single at Sunday night's fifth annual K-LOVE Fan Awards at Nashville's Grand Ole Opry. While appearing on ABC's Good Morning America in late April, Mandisa also performed "Unfinished" alongside "I'm Still Here."
Fans & critics have welcomed Mandisa back. Among them, People Magazine stating "She's known for her determinedly sunny disposition, but Mandisa recently weathered a dark depression… And through all the hardships, the singer has channeled her pain into her new album Out of the Dark," and Focus on the Family's Plugged In, who honestly shared "This authentic, gritty, hopeful collection of songs may very well help others who find themselves in similarly shadowy places." In a vulnerable opening filled with real life voicemails from friends, Out Of The Dark finds Mandisa collaborating with Kirk Franklin, TobyMac, Britt Nicole and Jeremy Camp appear on the 18 track LP. With themes of value, honesty and unity, Mandisa has released a stream of song story videos to share the heart of the newest tunes. To view the videos, click here.
To purchase Out Of The Dark, click here.
About Mandisa
With more than 1 million records sold, GRAMMY® winner and and American Idol Season 5 finalist Mandisa is a voice of encouragement and truth to people facing life's challenges all around the world. In less than a year, Mandisa performed her three hit singles "Overcomer," "Good Morning," and "Stronger" on the highest rated morning show, ABC's Good Morning America (GMA.) Her performance of "Stronger" welcomed the emotional return of beloved morning host Robin Roberts. The NFL also welcomed Mandisa to perform the national anthem during a Sunday night NFL Network game to kick off Breast Cancer Awareness month where she was joined by members of the 49ers family who are survivors. Her album, Overcomer, released August 27, 2013 and debuted at No. 1 on the Billboard Christian Albums Chart, with the album's title track proving to be a smash at radio Mandisa was awarded a GRAMMY® for Best Contemporary Christian Music Album for her best-selling and critically acclaimed project Overcomer. Additionally, "Overcomer's" songwriters (David Garcia, Ben Glover & Christopher Stevens) won the GRAMMY® for Best Contemporary Christian Music Song. Mandisa's fifth album Out Of The Dark is available now.
Get Connected with Mandisa:
Website // www.mandisaofficial.com
Twitter // www.twitter.com/mandisaofficial
Instagram // www.instagram.com/mandisaofficial
Facebook // www.facebook.com/mandisaofficial
##