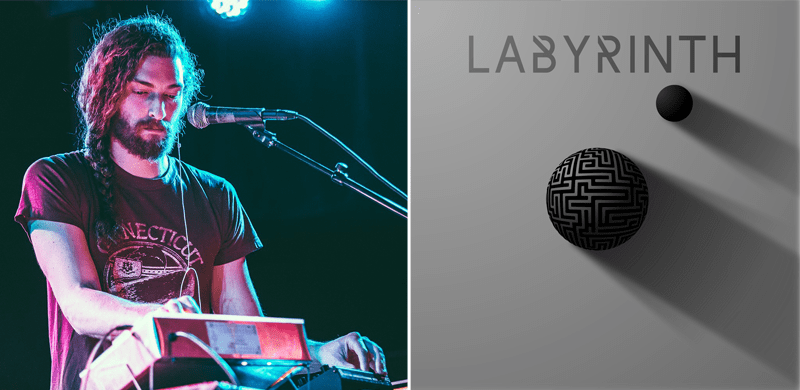 David Releases New Video, Performs Labyrinth Songs Live With Paul Baloche At National Worship Leader Conference Next Week
Labyrinth Is Lauded by Peers, Critics And Fans Alike
Recording artist, composer David Baloche released his contemplative, scripture-based debut album, Labyrinth, worldwide amidst acclaim March 24. Hitting top 10 on the iTunes Christian & Gospel chart during its first week at digital retail, the momentum continues as the nation's largest Christian retail outlet, LifeWay Christian Stores, will exclusively feature the Labyrinth CD in all its 170 locations beginning August 29. LifeWay will further include special in store Labyrinth audio and video airplay, and feature counter and music section positioning along with in-store advertising.
Labyrinth has also sparked the video "Come To Me" that highlights Catholic Charities USA's work with refugee families. Catholic Charities USA is a national organization that offers support to member agencies, provides disaster relief and promotes poverty-reduction through research and legislative reform. The video, Directed by Orion Pahl, can be viewed below:
In addition to "Come To Me" (Matthew 11:28; Proverbs 3:24), the full-length Labyrinth features "He Hears My Voice" (Psalm 55:16-17 NLT), "Nothing Can Separate" (Romans 8:38 NLT), "Those Who Hope" (Isaiah 40:31 NIV) and seven more songs that focus on scriptures from the Holy Bible meant to calm anxiety and stress. A soundscape for use during times of personal and corporate prayer and meditation, the scriptures are sung by David Baloche, who also plays piano, acoustic guitar, clarinet, trumpet and virtually all the instrumentation on the album.
Executive produced by WILDFIRE7 and Baloche's father, Dove Award-winning worship leader/songwriter Paul Baloche, Labyrinth is the lead volume in an upcoming scripture series that is receiving widespread acclaim. In addition to father and son leading songs from Labyrinth at the National Worship Leader Conference May 17-18 in Centreville, VA and a YouVersion Labyrinth Bible plan that is available now to its worldwide community, the album is being lauded by peers like Phil Wickham, All Sons & Daughters, Aaron Shust, Glenn Packiam, Stephen Proctor and Chris Sligh. Most recently, Lincoln Brewster chimed in calling the album "stunning," and says on his Facebook page, "I'm so proud of David and so thrilled for his future and for the lives that these songs will impact."
CCM Magazine adds, "This is an experiential album, a true spiritual help that offers 10 tracks that minister to both the head and heart," as music fans give multiple five-star reviews on iTunes:
---
"Beautiful soundscapes. Guitars, piano, french horn, electronics, clarinet, cello, and a wave of vocal harmonies blend music together that inspires the mind and calms the soul. So original and fresh."
"Blown Away! So fresh, so beautiful, I could listen to this again and again and never grow tired of it!"
"Ancient text, inspired melodies, and artful production truly make this project a rare piece of work. This is a much-needed breath of fresh air."
---
"The Labyrinth project isn't an escape; it's an encounter… with one's self and with God," says David Baloche, who is also a New York City-based artist and high school teacher. "It is a sonic labyrinth, a song experience to prepare for scripture and worship, as if to say, 'pay attention, we're headed for something deeper'."
"The promises of God help transform our thinking and calm our souls," adds Paul Baloche. "In an anxious and busy world, Labyrinth is a powerful way to experience God's Word while filling our hearts and minds with His peace through verbatim scripture set to ambient music… allowing us to soak in God's Word."
For more information on David Baloche's Labyrinth, go to www.labyrinthsongs.com. The album and lyric videos can also be streamed on Spotify and YouTube respectively.
About Integrity Music:
Integrity Music is part of the David C Cook family, a nonprofit global resource provider serving the Church with life-transforming materials. With offices in Nashville, Tennessee (US) and Eastbourne, East Sussex (UK), Integrity is committed to taking songs of substance to the local church and its leaders around the world. Integrity publishes many of the top songs in the Church, including "Great Are You Lord," "Revelation Song," "Open The Eyes Of My Heart," "Your Great Name," "I Am Free," "How He Loves," "Great I Am," and "We Believe," among others. Additional information is available at www.integritymusic.com.
About WILDFIRE7:
WILDFIRE7 is a new concept in faith-based multimedia content production, management and marketing based in the heart of the entertainment capitals New York City and Nashville, Tennessee. WILDFIRE7's mission is "To ignite, empower and serve the Church and the creative community and influence the culture with life changing media content that 'ignites the world around us'." WILDFIRE7 is a part of the Wildfire Media Group Inc. Additional information is available at http://www.wildfire7.com.
##