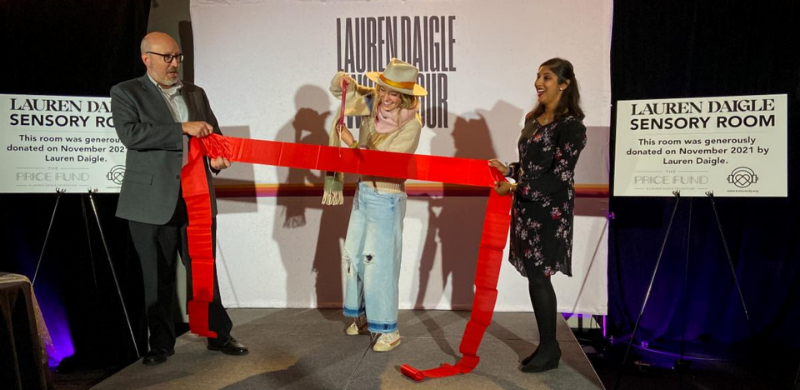 KultureCity has partnered with Bridgestone Arena and Nashville Predators to make the venue and all the programs and events that the arena hosts to be sensory inclusive. This initiative promotes an accommodating and positive experience for all guests and fans with a sensory issue that visit. Bridgestone Arena and Nashville Predators have taken the next steps and created a sensory room for guests to use at all events.
The Lauren Daigle Sensory Room, sponsored by The Price Fund, provides a dedicated space designed by medical professionals for those who may need a quieter and more secure environment. This is imperative to ensuring fans have a great guest experience. The sensory room is outfitted with bean bags from Yogibo, the visual light panels by Nanoleaf, activity panels, bubble walls, and a custom tactile artwork created by an autistic artist.
Lauren Daigle, who sponsored the room, says "to open this room is such an honor – and an incredible milestone to help better serve the millions of people with invisible needs."
Bridgestone Arena has been KultureCity sensory inclusive certified since September 2018. David Kells says, At Bridgestone Arena we strive to create an environment where everyone can enjoy seeing the best performers and athletes in the world. Singing a song with 13,000 of your closest friends or cheering on the Preds to victory is an experience no one should miss. With that in mind we are so proud to expand our partnership with KultureCity by opening a special place for those with sensory sensitivities. Thank you to Lauren Daigle and KultureCity for bringing this amazing new space to life.
Every year, staff are trained by leading medical professionals on how to recognize those guests and fans with sensory needs and how to handle a sensory overload situation. Sensory bags, equipped with noise canceling headphones (provided by Puro Sound Labs), fidget tools, verbal cue cards (produced in conjunction with Boardmaker) and weighted lap pads have been available to all guests at Guest Services who may feel overwhelmed by the environment.
KultureCity has partnered with several venues in the state of Tennessee and is excited to announce that another Nashville sports team is fully committed to inclusion for all. Uma Srivastava, Executive Director of KultureCity and resident of Nashville says, "it's heartwarming to see that my new home, Nashville, is adopting sensory inclusion. We enjoy attending Predators games and others events at Bridgestone and to know that all guests and fans can enjoy and have a wonderful experience thanks to the addition of a sensory room is wonderful."
Sensory sensitivities or challenges with sensory regulation are often experienced by individuals with autism, dementia, PTSD and other similar conditions. One of the major barriers for these individuals is sensitivity to over stimulation and noise, which is an enormous part of the environment in a venue like Nissan Stadium.
Prior to attending an event, families and individuals can download the free KultureCity App where one can view what sensory features are available and where they can access them. Also, on the App is the Social Story which will provide a preview of what to expect while enjoying an event.