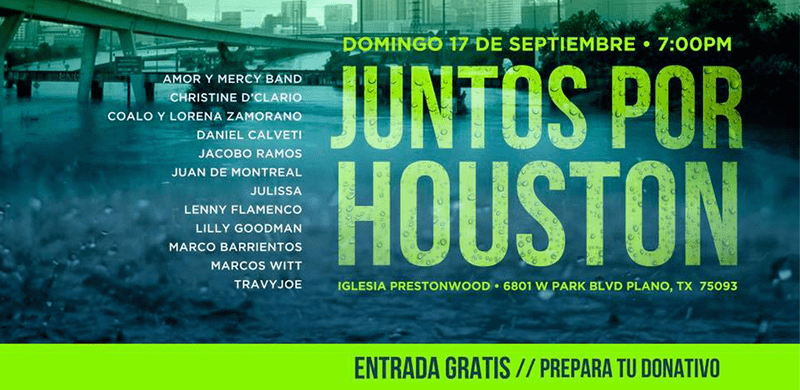 Houston, TX – Top Latin CCM and worship artists come together under the slogan "Juntos por Houston" ("Together for Houston").
These Latin GRAMMY®, Billboard Latin Music Award and Dove Award winning and nominated artists will perform in a concert to raise funds for the families affected by the floods caused by Hurricane Harvey.
Some of the confirmed artists, donating their time and resources are: Marcos Witt, Coalo Zamorano, Daniel Calveti, Marco Barrientos, Christine D'Clario, Jacobo Ramos, Julissa, Travy Joe, Lilly Goodman, Amor Mercy Band, Lenny Flamenco and Juan de Montreal.
This event will be free to attend but attendees will be given instructions on where to donate to reputable organizations. The concert will take place Sunday, September 17, at 7:00 pm (CST) at the Prestonwood Baptist Church, located at 6801 West Park Blvd, Plano, TX 75093.
The event will be broadcasted via Facebook Live to allow the international audience to contribute to the fundraiser.
For further information, you can visit Coalo Zamorano's Facebook page: Facebook.com/coalozamorano
##