Integrity Music Celebrates Season of Groundbreaking, Americana/Folk-Inspired Worship With The All Sons & Daughters Collection Available March 16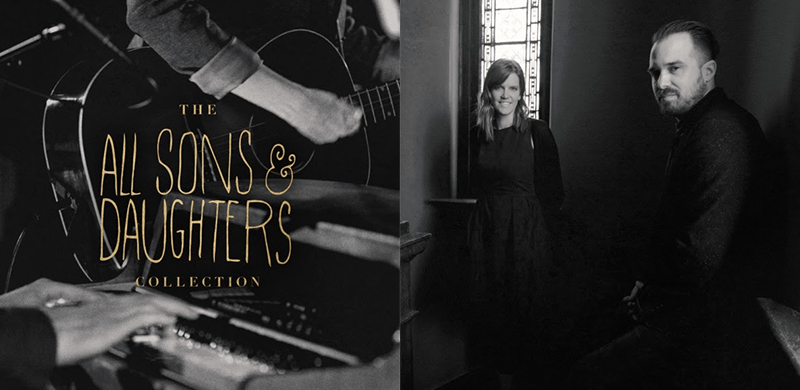 After seven years of recording together as the critically-acclaimed worship duo All Sons & Daughters, David Leonard and Leslie Jordan end their season as a band. To celebrate the impact of their songs, including "Great Are You Lord" and "All The Poor and Powerless," Integrity Music offers 15 best-loved tracks on The All Sons & Daughters Collection available March 16 with a pre-sale beginning February 23.
"After much prayer and consideration, we have decided that our season as a band has come to an end," shared Leonard and Jordan in a letter to fans. "Our involvement in music and in one another's lives will not wane; it will just look different from the previous season."
For Leonard and Jordan, the story of All Sons & Daughters has always been that of their local church, a reflection of the move of God within a community of believers. When they first began writing together, they never dreamed their songs would travel beyond the walls of Franklin, Tennessee's Journey Church. They simply wanted to serve their faith family with new songs of worship.
After partnering with Integrity Music, the two began recording under the name All Sons & Daughters in reference to one another and the active worship-fellowship process. The result was songs like "All The Poor And Powerless," "Brokenness Aside," "Reason To Sing," "Called Me Higher," "Christ Be All Around" and "Great Are You Lord," which is currently ranked at No. 3 among the most-used songs in churches according to Christian Copyright Licensing International (CCLI).
With a fresh Americana/Folk approach filled with the longing of the "now but not yet" of the Christian walk, All Sons & Daughters recorded three EPs (Brokenness Aside, Reason to Sing, The Longing) and four full-length albums (Poets & Saints, All Sons & Daughters, All Sons & Daughters:Live, Season One). Along the way, they garnered multiple Dove and Grammy Awards nominations. They also toured, ministering in other communities and forming friendships with churches across the U.S. and around the world.
You have called me higher | You have called me deeper
And I'll go where You will lead me Lord ("Called Me Higher")
"We want to say thank YOU for your unending support… We didn't anticipate many of the opportunities we were given but just tried to walk in obedience through each open door," they added. "Many of those doors led us to your cities, neighborhoods and churches and we are so grateful to you for welcoming us with open arms… We pray that God will continue His beautiful work in the church and we can't wait to see what the next season holds."
The All Sons & Daughters Collection will be available everywhere Christian music is sold or streamed. The complete track list is:
"Brokenness Aside"
"I Am Set Free"
"All The Poor and Powerless"
"Reason To Sing"
"Your Glory"
"Called Me Higher"
"Oh How I Need You"
"Rising Sun"
"Christ Be All Around Me"
"God With Us"
"Great Are You Lord"
"This My Inheritance"
"I Surrender"
"Rest In You"
"You Hold It All Together"
##