INDUSTRY Q&A: Roma Downey, Founder & President, LightWorkers Media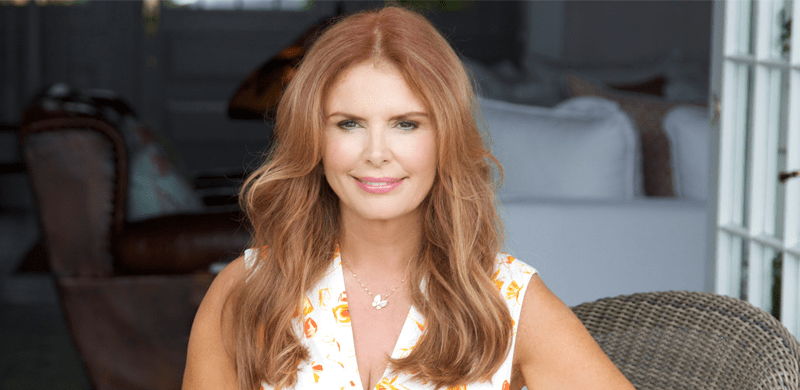 3 TOP 3 with Roma Downey
Three things still left on your bucket list:
There's certainly some travel. I have a few destinations that are still on my bucket list of places that I would love to see and some things that I'd love to do!

There would be other work-related things that I'm eager to bring to life on screen.


In my personal life, I have young, adult children. Marriage certainly isn't in the cards for anybody just yet – as they're all still in their early twenties. However, I do have a vision of one day holding a grandbaby or grandbabies in my arms. That would be the next, beautiful, amazing season of life that I look forward to down the road when the time is right.
Three books you'd recommend:
The Baxters Series by Karen Kingsbury

The poetry of Mary Oliver

The poetry of William Butler Yeats
Three favorite artists/records of all time:
Van Morrison

U2

Amy Grant
By Jess Chambers
Photography by Deborah Wald
Roma Downey is an Emmy-nominated actress and producer. She's well-known for her role as the kindhearted angel, Monica, on the show, "Touched By An Angel." Downey and her husband, Mark Burnett, have produced several faith-based programs for television such as, "The Bible Series" and "A.D." as well as feature films like, "Son Of God," "Woodlawn," and "Ben-Hur."
Growing up in the city of Derry, Ireland during a time of conflict we now know as The Troubles, Downey experienced great loss as a young girl. Yet in the sadness, she found a way to see the blessing in everything that happened in her life.
Today, Downey is the Founder and President of LightWorkers Media, a joint venture with MGM, and Chief Content Officer for LightWorkers.com – an online community of digital storytelling that creates uplifting and encouraging content. Her book, "Box of Butterflies," releases on March 6th; in it she shares stories from her own life and includes quotes, poems, scripture, and artwork that she prays will be a blessing just in time for Easter!
She and her husband Mark continue to be pioneers in the entertainment industry releasing uplifting, faith-based content. She's a longtime supporter of Operation Smile and Compassion International. We had the privilege of spending a few minutes with her discussing her life's journey, LightWorkers, and her new book, "Box of Butterflies."
A quick look at the headlines today reminds us that there are often dark moments in our midst, but you and your husband, Mark Burnett, recently launched LightWorkers Media using the expression, "It's better to light one candle than curse the darkness …" LightWorkers.com is refreshing and uplifting. It spreads a different kind of a message – focusing on encouraging, engaging, uplifting, and uniting others through its content in Film, TV and Online. Can you take a moment to explain the heart and vision for the venture of LightWorkers?
Downey: Thank you. We have a strong intention in our hearts. We feel that we need to be reminded that there are good people everywhere, doing good things. I know when the news headlines blast out yet another tragedy, it's hard to remember that, sometimes, in business and in the world. So LightWorkers and all that we are doing over here is just about trying to remind people that there is hope and there is so much good and there are so many amazing people doing incredible things, and we can't let this awful darkness take us over.
Your new book, "Box of Butterflies" releases on March 6th. It promises to be yet another form of media that you use to share hope and encouragement as well as real life stories of God's comforting presence all around us in the world today. Would you tell us a little bit about this book, how you were stirred to write and share these stories, and the significant role butterflies have played in your life?
Downey: It's interesting, because having written this book, "Box of Butterflies," it required of me many reflective mornings. I would pour a cup of tea, light a candle, and sit down with my laptop to bring back into the forefront of my memory stories from my life. What emerged was this idea that at the time, when incidents occurred such as heartbreak and loss all throughout my childhood, those very painful experiences were preparing my heart with compassion, with empathy, with understanding of what it feels like to lose something. So, when the opportunity came up for me to play an angel on television, when I was cast to play Monica on "Touched by an Angel," the very qualities that were alive in that character had been shaped in me through my own life's journey. It's not that I wished that I had never gone through those things, of course, I don't and I'd do anything if my mom and my dad were to be returned to me. But losing them really expanded my heart in a way that I don't think I could have played Monica if I didn't know how to listen with my heart to somebody else's suffering.
The symbol of the butterfly has just been so present in my life. The butterfly doesn't know that it's a caterpillar and that it has to go through this extraordinary struggle in the cocoon. It has to shed its old life to be reborn into its new life. I love that symbolism! Sometimes it's the very struggle that gives us the wings that we need to fly. When my mom died, just a week shy of my eleventh birthday, it truly rocked my world. It was as if the light had been turned out and all the color removed. If it hadn't been for faith and prayer, which we leaned into as a family to try to help us through that painful period, I don't know how we would have made it through. As a family, we held onto the hope that we will all be together again one day. But as a child, I just missed my mom …
Then one day, I went with my dad to the cemetery. It was the Mother's Day after my mom had passed. We brought with us a bunch of pansies, because those were her favorite flower. She always said they looked like little butterflies. As I placed a bunch of flowers on her grave, a real butterfly flew past. My father pointed to it and said, "Would you look at that, that could be your mother's spirit, right there." And out of my own personal darkness came a little ray of light. The idea that a butterfly could symbolize my mother made me feel just that little bit less alone. Now for the rest of my life, I always notice the butterflies. I've seen them at my lowest. I've seen them show up in all kinds of unexpected places – not only in my garden where my flowers are, but as a tattoo on the wrist of a waitress, or even on the side of a moving truck. I believe they're just showing up as reminders for me that my mom's spirit is always watching over me, and that God is always with me.
My prayer in writing it was that if somewhere there is somebody hurting then maybe by sharing my own experience they would be encouraged. My hope was that weaving it together with scripture, prose, beautiful illustrations, and poems and quotes that have inspired me over the years, it would be a little book of encouragement. I'm delighted that the publisher selected this Spring to release it as I think it lends itself to the season, for Easter and for Mother's Day, because I think it will make a beautiful gift for yourself or for somebody that you love. I just hope and pray that it reaches that person that needs a little bit of encouragement, or needs a little bit of comfort because they've lost somebody they loved, or perhaps someone who's just fallen away from God because of their life situations or the struggles that they're going through … and maybe, just maybe through reading "Box of Butterflies" they're reminded of the unconditional love of our heavenly Father, and that the book might encourage someone to come home to God.

You're well known for your role as the angel Monica on the television series, "Touched By An Angel." Through this time you worked alongside the beloved Della Reese who became a dear friend to you and even godmother to your daughter. Can you tell us about that friendship and what she meant to you both personally and professionally?
Downey: I still meet people to this day who were fans of "Touched By An Angel." They watched it on the couch with their grandmas and their moms. They looked forward to it every week as a reminder of God's love. Here we are years later and people are still remembering how that show ministered to their family. What a privilege that was for me as a believer to be able to be the messenger and to deliver that message. And what an honor it was for me to work side-by-side with the most extraordinary woman I've ever met, Della Reese, who made her transition just at the end of last year. A woman of God, a woman of courage, a woman of wisdom, of beauty and talent, and how grateful I am that right before she passed she wrote this beautiful forward for "Box of Butterflies." In some way she gets to be honored and live on in certain parts of the hearts of everyone who knew her and loved her.
She also gets to live on here in the pages of my book, and for anybody that reads "Box of Butterflies." There is a mother-daughter theme that plays out … from a girl who lost her mother when she was only 10 years old, to a woman whose mother was restored in the most extraordinary way. Della Reese came into my life and became my mom. Della also had heartache in her life when we were working together. Her only daughter unexpectedly passed away. At that time she said to me, "you know, baby, God is so amazing, because I always knew that He brought me into your life because you needed a mom. And then later I realized that He brought you into my life because He knew I was going to need a baby girl. Will you be my baby?" I said, "Yes." And she said, "then I am your mama." So she was my mom and loving each other was healing for both of us. Only God can do that. Only God would bring two hurting people together to find each other. The friendship and relationship that you saw on screen in "Touched By An Angel" was reflected only by an even greater and deeper love off screen.
It's so clearly evident in all of your work that your relationship with the Lord is the center of all you do. How has He used your journey in life to prepare you for the leadership role you have within the entertainment industry – not only as an actress, producer, and writer, but as a woman of faith?
Downey: My life is a love song to God. I'm so grateful to Him and all the many blessings He's bestowed upon me. Truly, in any way I can through my work, I try to just make my life a song to Him. The story that I was able to conclude from the writing of "Box of Butterflies" is that in spite of everything, I have never walked one step of this by myself. He's been with me every step of the way, and for that I will be forever grateful.
##