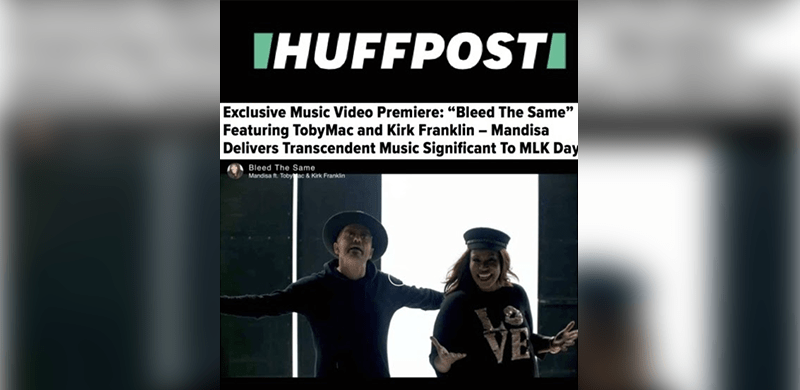 Timely Video Piece Accompanies Martin Luther King Jr. Day
Nashville, Tenn. (Jan. 12, 2018) – Coinciding with Martin Luther King Jr. Day, HuffPost is exclusively sharing the first look at the thought-provoking music video of Mandisa's "Bleed The Same" featuring fellow GRAMMY® winners TobyMac and Kirk Franklin. To watch the video, click here.
"More than I want the song to be a hit, I really would love for it to be a movement. My prayer is that it makes people think, especially before they speak," shares Mandisa. "And if it's just a song that people enjoy, that's not good enough. I really, really hope it causes people to pause a little before responding and before judging people. That they'll think this person is coming from a different perspective than I am, so let me treat them with the respect I would want to be treated with."
"By itself, 'Bleed The Same' is wonderful music. However, it's more than music. It's a musical supplication for the principle of association and unity. And for that reason it's emotionally transcendent and a must-listen-to song." HuffPost
"Bleed The Same" is resonating at radio, currently tracking Top 10 on both the AC Indicator and National Christian Audience charts alongside being Top 15 at AC Monitored, CHR and Inspo charts. The unifying song is found on her latest No. 1 album Out Of The Dark (May 2017) which received support from ABC's Good Morning America, People Magazine and more.
To purchase Out Of The Dark, click here.