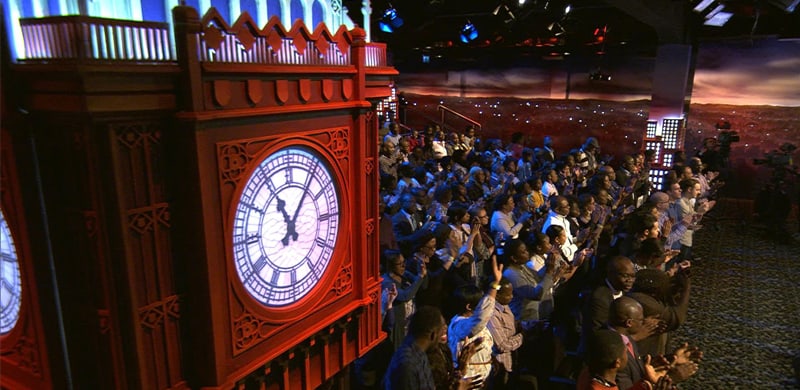 LONDON (January 5, 2014) — January 5th is an historic day for the United Kingdom! Today Trinity Broadcasting Network, the world's largest religious broadcaster, launched TBN UK on Freeview Channel 65, bringing 24-hour faith-and-family television to 95 percent of television households across England, Scotland, Wales, and Northern Ireland — nearly 26 million UK homes!
"Something exciting is happening across the United Kingdom," said TBN Vice President Matthew Crouch. "A new generation is taking a deep interest in faith and spirituality, and here at TBN we're thrilled to help fuel that interest with a network that brings solid Bible teaching, passionate worship, relevant messages, and much more to viewers across the UK."
While TBN, which broadcasts on over two dozen networks on every inhabited continent, has been available in the UK through cable and satellite, its launch on Freeview, the UK's free-to-air digital broadcast platform, represents "the first time over 65 million individuals across the British Isles have access to a broad range of faith-and-family programming 24 hours a day," said Crouch.
He recalled that the project began almost two years ago when his father, the late TBN founder Paul Crouch Sr., signed an initiative to establish a Christian network in the UK. That move coincided with the construction of a major, state-of-the-art TBN London studio a stone's throw from famed Wembley Stadium. "As a pioneer in Christian broadcasting my father was responsible for taking faith television to hundreds of millions of people on every inhabited continent," said Mr. Crouch. "But this is, by far, the biggest broadcast switch that TBN has ever thrown." In fact, he added, "the Launch of TBN UK on Freeview Channel 65 represents one of the single largest increases of faith television coverage in history."
TBN UK's channel director, Leon Schoeman, noted that while England, once a solidly Christian nation, suffered a decades-long erosion in church attendance and interest in spiritual matters, in the past several years there has been a dramatic resurgence of interest in the Christian faith among younger generations.
"TBN UK is launching at an ideal time in our nation's spiritual journey," Schoeman said. "More and more people are recognizing their deep need for God's help in their lives." He added that in the run-up to the network's launch, "clergy and Christian leaders throughout the UK have enthusiastically stepped forward to partner in this endeavor and help us ensure our content and programming model a well-rounded and balanced Christian lifestyle to our viewers."
In addition to the international ministry programs, family-friendly movies, and shows for children and teens that have made TBN popular around the world, TBN UK will feature a broad range of dynamic music and innovative ministry programming from UK congregations like Holy Trinity Brompton, London's Jesus House, Hope City Church in Manchester, Hillsong London, and many more.
Popular British evangelist and author J. John, who will also host a variety of TBN UK shows, said anticipation is high among pastors and Christian leaders as TBN launches across the UK. "I thank the Lord that TBN is in London broadcasting to the entire United Kingdom and beyond," he said. "And I am so thrilled that God is using technology to make the message of Christianity accessible to the majority of people that don't go to church."
Pastor Colin Ruddock of Victory Outreach in Manchester said that "to know TBN UK is going to be broadcasting here is really exciting. This is going to change the whole way people see Christianity and what the gospel actually means. Having TBN here is one of the biggest, most powerful moves for reaching so many people at one time."
TBN's Matthew Crouch noted that Britain has a rich, centuries-long heritage of sharing the Christian faith with the rest of the world. "America, for one, owes its own tradition of faith in God in large part to the men and women who came from Britain to preach and teach the gospel," he said. "TBN is humbled to be able to give back to this nation and people through the launch of this network. Our prayer is that our efforts will help to expand the great spiritual renewal that is already moving across the UK."
##
About the Trinity Broadcasting Family of Networks
With 26 networks and growing worldwide, the Trinity Broadcasting Family of Networks is the world's largest faith-and-family television group, airing a broad range of church and ministry programming, Christian music, family friendly movies, children's programming, and shows for teens and young adults 24 hours a day to every inhabited continent via 85 satellite channels and 20,000 television and cable affiliates. In addition, TBN's most popular global networks are available on computers, smart phones, and other mobile devices, and over 26,000 hours of entertaining and inspiring On-Demand programming is accessible via TBN's innovative online network, iTBN.org. To find out more about the Trinity Broadcasting Family of Networks, log on to www.tbn.org.
Media Contact:
Colby May
E-Mail: cr@tbn.org
Tel: 972-313-9500