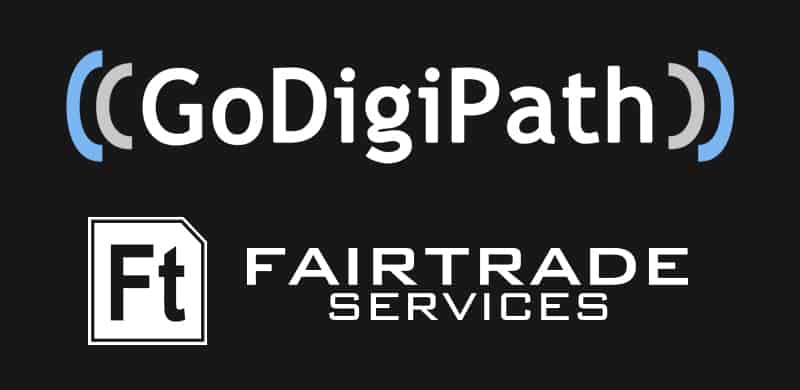 New Pact Provides CBA Distribution for all GoDigiPath Label Partners
GoDigiPath, LLC (formerly known as Taseis Media Group) has entered into a CBA (Christian Booksellers Association) agreement with FairTrade Services, LLC in association with Provident Distribution, a division of Sony Music Entertainment.
The new deal will provide exclusive worldwide CBA distribution via FairTrade's Provident Distribution alignment regarding all faith-based physical goods generated by the various GoDigiPath label partners. The GDP label/studio clients are Aleho International Music, All Saints Radio, Angella Christie Sound Ministries, Audiostate 55 Entertainment, Black Lava Films, Clout Music Group, Dare Records, Emtro Gospel, Key of A Music, Marquis Boone Enterprises, Rebel Hill Entertainment, Scripture Music Group, Soul Tempo Music, Studio Caffè, T-Records, Tyscot Films, Tyscot LOUD and Tyscot Records.
"The tenents of FairTrade Services, align perfectly with that of GoDigiPath and our many label clients, we are elated to be in partnership with FairTrade regarding the CBA (the association for Christian retail since 1950)," says Leighton Singleton, GoDigiPath VP of Sales & Operations. "Going forward, our objective is the continual growth of GoDigiPath as a business incubator company and world-class service provider of faith-based films and music distribution for independent artists and labels."
"We believe in the vision of GoDigiPath and their label partners," says Dan Michaels, FairTrade Services Senior VP of Marketing & Promotions. "FTS is thrilled to partner with GoDigiPath in supporting the extraordinarily talented artists they represent and share in their passion for ministry."
About FairTrade Services
FairTrade Services, LLC launched in June 2011 by music industry veteran Jeff Moseley. FairTrade Services is a partnership based on dialogue, transparency, and respect, formed for the development of remarkable Christian artists who desire artistic excellence, cultural relevance and spiritual significance. Located in Brentwood, TN, their roster includes MercyMe, Laura Story, Phil Wickham, Audio Adrenaline, Hawk Nelson, The Afters, Sara Groves and more. FairTrade Services is distributed by Provident Distribution and Sony Music. www.fairtradeservices.com
About GoDigiPath
Formerly known as Taseis Media Group (born in 2003), GoDigiPath, LLC operates as a business incubator company providing independent labels consultation in order to foster positive professional development and growth in tandem with exclusive worldwide Digital and physical distribution of music and film products for many of the finest and upcoming independent music labels and film studios in the world. Partners are Aleho International Music, All Saints Radio, Angella Christie Sound Ministries, Audiostate 55 Entertainment, Black Lava Films, Clout Music Group, Dare Records, Emtro Gospel, Key of A Music, Marquis Boone Enterprises, Rebel Hill Entertainment, Scripture Music Group, Soul Tempo Music, Studio Caffè, T-Records, Tyscot Films, Tyscot LOUD and Tyscot Records. For the CBA worldwide, GoDigiPath physical products are distributed exclusively via FairTrade Services, LLC in association with Provident Distribution a Sony Music Entertainment company. For the mainstream worldwide, GoDigiPath digital and physical products are exclusively distributed by ADA (Alternative Distribution Alliance) a Warner Music Group company. www.godigipath.com
##